Spring 2020 Student Involvement Fair
February 5, 10:00am - 2:00pm
Mānoa Campus, Campus Center and Campus Center Courtyard
---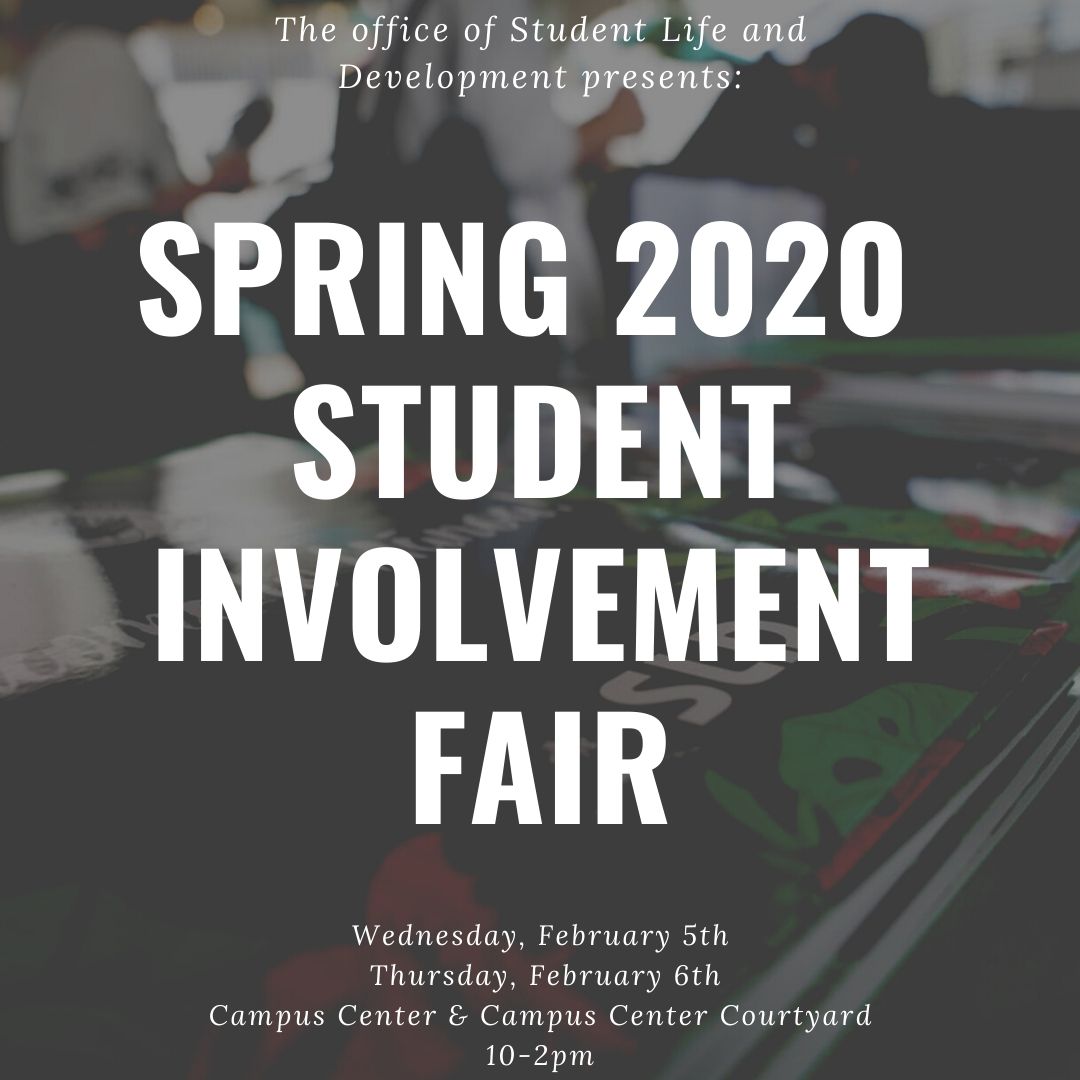 The Spring 2020 Student Involvement Fair is here!
This event is a great opportunity to get out there and "Get Involved." Having a great college experience is not just about going to class everyday but also about the chances you take and the people you meet.
Take a chance with us. See, learn and participate on how to get involved on campus by being surrounded with RIOs and CSOs.
You don't want to miss out on this 2-day event. It only happens once a semester.
Event Sponsor
Student Life and Development, Mānoa Campus
More Information
SLD, 808-956-8178, sld@hawaii.edu
---
Wednesday, February 5

9:00am

Business Administration Final Oral

Mānoa Campus, Shidler College, Room A301
10:00am

Spring 2020 Student Involvement Fair

Mānoa Campus, Campus Center and Campus Center Courtyard
12:00pm

Noenoe Silva: The Power of the Steel-Tipped Pen

Mānoa Campus, Hamilton Library, 2550 McCarthy Mall
12:00pm

Economic War with China: Fury and Folly

Mānoa Campus, Moore Hall, Room 109, University of Hawai'i at Manoa
1:00pm

Study Abroad Info Meeting - Summer in Florence, Italy

Mānoa Campus, Agricultural Science 220
2:00pm

Study Abroad Info Meeting - Summer in Seville, Spain

Mānoa Campus, Agricultural Science 220
3:00pm

Pathways to Graduate Student Wellness Webinar

Mānoa Campus, Webinar
3:00pm

LGBTQ+ Student Coffee Hour

Mānoa Campus, ZOOM ID: 202 052 344
3:30pm

Resume & Cover Letter: Market Yourself on Paper

Mānoa Campus, Google Hangout Meets
3:30pm

Atmospheric Sciences Seminar

Mānoa Campus, Marine Sciences Building, MSB 100
3:30pm

Film screening & discussion: The Tale of the Dead Princess & the Seven Knights

Mānoa Campus, 252 Moore Hall
5:00pm

The Gap Year

Mānoa Campus, Webster Hall, Room 104
6:00pm

Climate Emergency: A Fresh Look at Humanity's Greatest Challenge

Mānoa Campus, Art Building Auditorium