Jenna Macy: Deepest Darkest Seacret—Masterpiece of Love
February 24, 2020 - March 13, 2020
Mānoa Campus, Art Building, Commons Gallery
---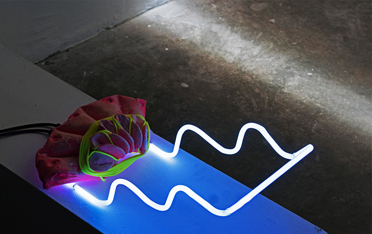 The Commons Gallery at UH Manoa is proud to present "Deepest Darkest Seacret: Masterpiece of Love," the first solo show by MFA candidate Jenna Macy. "Deepest Darkest Seacret" is an interactive installation consisting of a video documentation of an underwater performance by the artist (2019), a large-scale interactive floor sculpture made of cast ceramic and thermochromatic ink, a sandbox of pink sand, and a tool, "The Deepest Darkest Seacret Keeper," (2019). Cast in glass, the tool appears in the performance video and is available for audience participation. The video is edited to the soundtrack of a nature documentary narrated by David Attenborough. Altogether, the work takes a satirical look at human interaction that questions conventional notions of intimacy.
Jenna Macy's multimedia work often develops from sardonic observation, comparing human behavior to mating rituals as they might appear in a nature documentary. Born in Honolulu, Hawai'i, she completed her BFA at Maryland Institute College of Art (2016) and is currently pursuing an MFA at the University of Hawai'i at Manoa. Macy is the recipient of the Windgate Fellowship from the Center for Craft Creativity and Design in North Carolina (2017) and has exhibited at the Kerrie Lowe Gallery, Sydney, Australia.
Friday, Feb. 28, 6:00–8:00 p.m.
Potluck Reception
Image: Courtesy of the artist.
Ticket Information
Gallery hours Mon.–Fri. 10:00 a.m. – 4:00 p.m.; Sun., Mar. 8, 12:00 – 5:00 p.m.
Event Sponsor
Art & Art History, Mānoa Campus
More Information
Sharon Tasaka, (808) 956-8364, gallery@hawaii.edu, https://hawaii.edu/art/jenna-macy-deepest-darkest-seacret-masterpiece-of-love/
---