1st Saturday Workday
March 3, 8:00am - 12:00pm
Mānoa Campus, Ka Papa Lo'i 'o Kānewai (2645 Dole Street)
---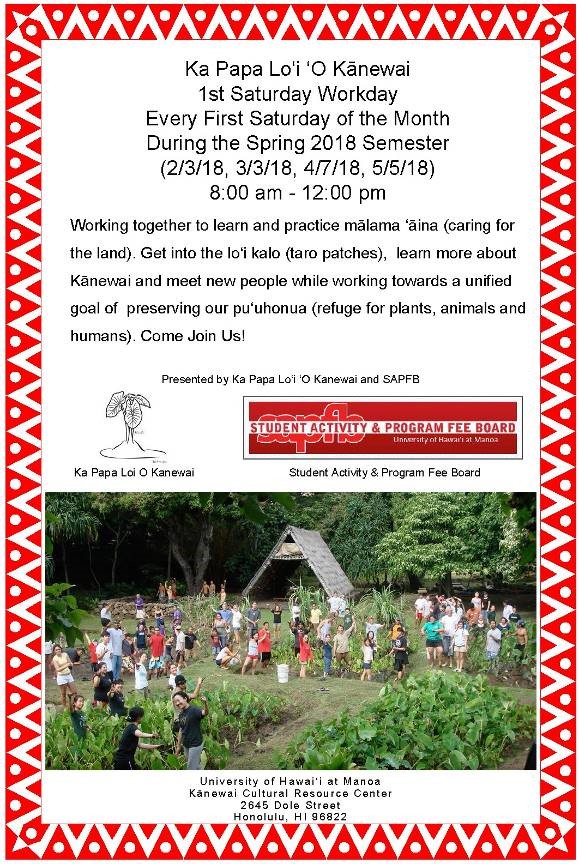 Please join us every first Saturday this Fall 2017 Semester for our 1st Saturday Workday at Ka Papa Lo'i 'o Kānewai (2/3/18, 3/3/18, 4/7/18, 5/5/18).
Working together to learn and practice mālama ʻāina (caring for the land). Get into the loʻi kalo (taro patches), learn more about Kānewai and meet new people while working towards a unified goal of preserving our puʻuhonua (refuge for plants, animals and humans).
Mahalo to our event sponsor SAPFB (Student Activity & Program Fee Board) for their continued support!
Event Sponsor
SAPFB (Student Activity & Program Fee Board), Mānoa Campus
More Information
Ka Papa Lo'i 'o Kānewai, (808) 956-0640, kanewai@hawaii.edu, http://manoa.hawaii.edu/hshk/ka-papa-loi-o-kanewai/
---
Saturday, March 3

8:00am

1st Saturday Workday

Mānoa Campus, Ka Papa Lo'i 'o Kānewai (2645 Dole Street)
8:00am

Ma Ka Hana Ka 'Ike Workshop Series

Mānoa Campus, Ka Papa Lo'i 'o Kānewai (2645 Dole Street)
8:30am

Kailua Beach Clean Up with Waikiki Aquarium

526 Kawailoa Road, Kailua
10:00am

The Mānoa Experience - University Preview Day (Open House)

Mānoa Campus, McCarthy Mall
1:00pm

Shidler Data Analytics Training Program

Mānoa Campus, Shidler College of Business
6:00pm

Better Tomorrow Speaker Series: Chasing Coral, film screening and discussion

Mānoa Campus, Art Auditorium
6:30pm

Bowling Night - March 3, 2018

Honolulu Campus, Fort Shafter, Honolulu, HI 96819, USA
7:30pm

Momoro Ono, piano

Mānoa Campus, Orvis Auditorium