2018 Uehiro Graduate Student Philosophy Conference
March 8, 9:00am - 6:00pm
Mānoa Campus, Sakamaki Hall D-201, Uehiro Academy
---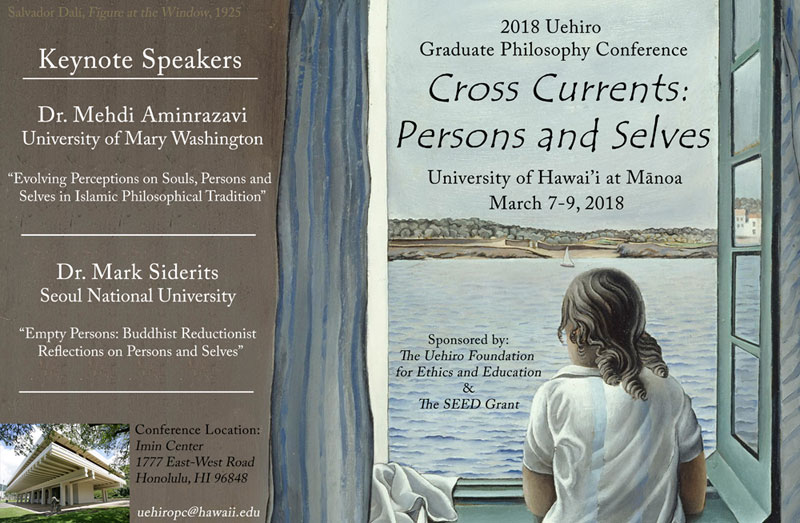 The annual Uehiro Graduate Student Philosophy Conference is taking place this week from Wednesday to Friday at the Imin Center.
The theme this year is Persons and Selves, featuring keynote presentations from distinguished scholars Dr. Mehdi Aminrazavi and Dr. Mark Siderits, along with 21 students from around the world.
Please join us for our inaugural event on Wednesday, March 7 from 6 pm. We meet at Sakamaki, D-201 and everyone is invited for dinner.
Event Sponsor
Philosophy, Mānoa Campus
More Information
(808) 956-8649, uehiropc@hawaii.edu, https://docs.google.com/document/d/1Z5T2dKr6JJYPzMKOQoJFTFJKxHsHBPk4hjQW00cc7XE/edit?usp=sharing
---
Thursday, March 8

9:00am

2018 Uehiro Graduate Student Philosophy Conference

Mānoa Campus, Sakamaki Hall D-201, Uehiro Academy
9:00am

Open Education Week 2018 Celebration

Mānoa Campus, Morning Sessions: iLAB (Bldg. 37)/Afternoon sessions: Kukendall 101 Auditorium
10:00am

Architecture Final Oral

Mānoa Campus, ARCH 314
11:00am

Donghak, a Deep Ecology of Reverence

Mānoa Campus, Center for Korean Studies
12:00pm

Hulahula and learn something: Expressing culture and science

Mānoa Campus, Kuykendall 409A
1:00pm

Nursing Practice Final Oral

Mānoa Campus, Webster 430
1:00pm

Philosophy Final Oral

Mānoa Campus, Sakamaki D 201
3:00pm

Study Abroad Meeting - Semester in Paris, France

Mānoa Campus, Business Administration Bldg. G102
3:00pm

Oceanography Seminar

Mānoa Campus, MSB 100
3:00pm

Oceanography Seminar - John Smith

Mānoa Campus, Marine Sciences Building 100
5:00pm

Entrepreneurship Live with Mike Bravo & Travis Ito

Mānoa Campus, Shidler College of Business, Room E-402
5:30pm

CCBAC's Taste of Mānoa

Mānoa Campus, Campus Center COurtyard
6:00pm

Shidler Executive Vineyards 2018

The Royal Hawaiian, Monarch Room
6:30pm

Hanauma Bay Educational Lecture Series

Mānoa Campus, Hanauma Bay Nature Preserve Theater
6:30pm

Converging Epistemologies: Borders and Boundaries

Mānoa Campus, East-West Center