Opening events for "PINK: Drexler + Largusa"
November 18, 3:00pm - 4:30pm
Mānoa Campus, Commons Gallery, Dept. of Art + Art History
---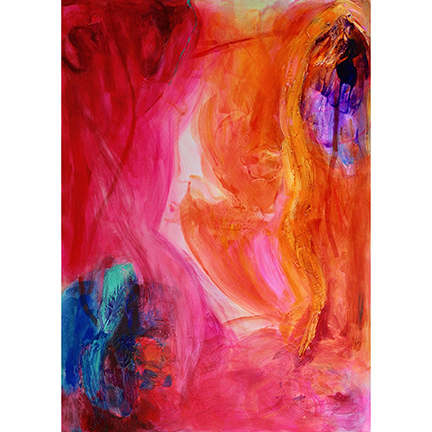 PINK: DREXLER + LARGUSA November 5 - November 30, 2018 Commons Gallery
Special Events All events are free and open to the public.
Sunday, November 18 3:00-4:30 p.m., Opening reception
An artistic challenge was posed to contemporary Hawai'i painters Debra Drexler and Kalani Largusa to create a new series of large-scale paintings that investigate the formal, referential, and symbolic aspects of the color pink, including its relationship to technology, culture, psychology, literature, science, art history, and gender. This exhibition is the outcome of this challenge.
Debra Drexler is a professor of drawing and painting at the University of Hawai'i at Mānoa. She maintains studios in both New York and O'ahu and her work is informed by her unique bi-coastal experience. She has had over thirty solo and over 100 group exhibitions in national and international venues. Recently, she has also worked with a number of galleries in New York, Brooklyn, and New Jersey, including Gallery Gary Giordano (two-person, 2017), The Dorado Project (solo, 2016), Van Der Plas Gallery (solo, 2017; solo, 2015; three-person, 2014), and H.P. Garcia Gallery (solo, 2010, 2009). In 2017 she received strong reviews in Whitehot Magazine and Arte Fuse, and was featured on The Kalm Report. Her work was included in group exhibitions at The Drawing Center, Exit Art, The Curator Gallery, Ground Floor Gallery, Denise Bibro, Sideshow Gallery, Stephan Stoyanov Gallery, Creon Gallery, and AFP.
Kalani Largusa's work centers on process of painting filtered through Polynesian tattoo symbolism and methodology, and "almost western" comic book iconography. Whether sharp detailed draftsmanship, mixed-media journaling, or large non-representational paintings, Largusa's work is ultimately an investigation of marks.
Largusa is from Kapahi, Kaua'i. He earned his MFA from the University of Hawai'i (2016). He previously studied drawing and illustration at the California College of Arts and received his BFA in painting studio practice from the School of the Art Institute of Chicago (2013). He was invited to the San Diego Comic Convention Comic Scholar Poster Session, and a guest speaker at San Francisco's WonderCon and the Chicago Comic and Entertainment Expo to present his paper entitled The Significance of Kato and the Evolution of His Role as the Green Hornet's Sidekick.
Event Sponsor
Art + Art History, Mānoa Campus
More Information
Taylor Johnson, (808) 268-4983, tmjohnso@hawaii.edu
---