ULEAD Student Conference
March 15, 8:30am - 4:00pm
West Oʻahu Campus, C-208 Multipurpose Room
---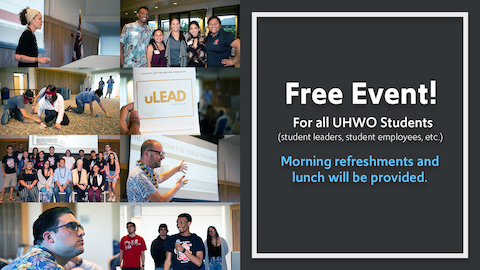 A student conference for students at the University of Hawai'i - West O'ahu
ULEAD is an acronym for University Leadership Education for Advanced Development!
Calling all UHWO students... student leaders of organizations, student employees, and all UHWO students of all academic programs and levels are invited to this leadership conference hosted by the UHWO Office of Student Life.
This conference is designed to provide UHWO students opportunities to learn leadership concepts and to explore their leadership potential. By attending this conference, students will be able to increase their capacity to work with others from diverse life experiences and circumstances, enhance leadership effectiveness, and to connect and collaborate with other students who want to make a difference in their organizations, communities and professions.
ULEAD Student Conference Objectives:
• to expand awareness and concept of personal and team leadership
• to expand and enhance one's own leadership effectiveness
• to connect student leaders to one another and create a leadership network
Tentative Agenda (Schedule at a Glance)
8:30am Check-in and Refreshments
9:00am - 10:00am Welina + Kaiaulu, Mele Honouliuli
10:15am - 11:15am Workshops I
11:15am - 11:30am Passing
11:30am - 12:30pm Workshops II
12:30pm - 1:10pm Lunch
1:10pm - 1:20pm Passing
1:20pm - 2:20pm Workshops III
2:30pm - 3:00pm Table Topic Talk
3:00pm - 3:30pm Next Steps: Reflection + Sharing
3:30pm - 4:00pm Wrap Up + Mahalo
All presentations are student-lead and will be presented by current UHWO student leaders. These student leaders recently attended Ho'opili Hou 2019 on the island of Kaua'i and will be sharing their learning to UHWO students.
All UHWO students must present a validated UHWO student ID for Spring 2019. Validate your UHWO student ID at the Student Services Office on the first floor of Campus Center.
THIS IS FREE, zero cost to UHWO students. Free registration includes morning refreshments, lunch meal, afternoon snacks and conference materials. Reserve your spot! Register today!
REGISTER HERE: http://bit.ly/ULEADsp2019
For more information, please email the Office of Student Life at slwo@hawaii.edu. Event sponsor is the UHWO Campus Center Board.
Ticket Information
http://bit.ly/ULEADsp2019
Event Sponsor
Office of Student Life, West Oʻahu Campus
More Information
Velasco, (808) 689-2942, Rouel
---
Friday, March 15

8:00am

Blue Pacific: Reclaiming Oceania Futures

Mānoa Campus, Hawai'inuiakea School of Hawaiian Knowledge
8:30am

ULEAD Student Conference

West Oʻahu Campus, C-208 Multipurpose Room
10:00am

Educational Psychology Final Oral

Mānoa Campus, George Hall 214
10:00am

History Final Oral

Mānoa Campus, Sakamaki B201
12:00pm

"There is Something Funny About Climate Change"

Mānoa Campus, iLab
2:00pm

Oceanography Final Oral

Mānoa Campus, MSB 114
3:30pm

Earth Sciences Seminar: Garrett Apuzen-Ito

Mānoa Campus, POST 723
5:00pm

Family Advantage! Program Nights

Mānoa Campus, 2727 Woodlawn Drive, Honolulu, HI. 96822
5:00pm

Noruz -- Persian New Year Celebration

Mānoa Campus, Campus Center Ballroom