PONO Talks: Sust-'āina-bility through Non-Conventional Methods
April 12, 3:00pm - 5:30pm
Mānoa Campus, Biomed 103
---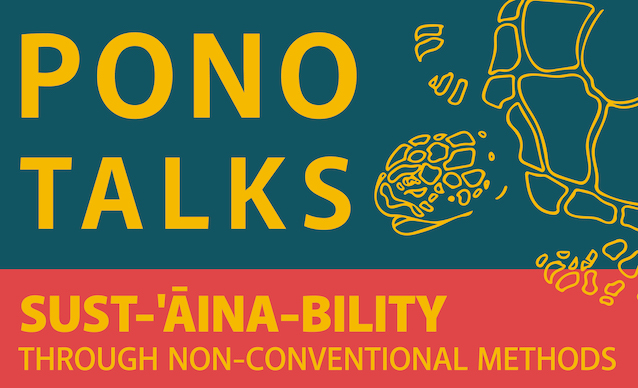 Organizations such as NOAA Fisheries and Mālama nā Honu will discuss some of the problems they have been facing and then members of PONO, the Protection of Ocean and Nature Organization, will present how we are tackling some of those issues, highlighting some of our studentsʻ work. For a little background about us, we as an organization strive to work across interdisciplinary fields within the borders the University of Hawaiʻi to have a positive influence on those beyond it, particularly by critically examining the stories we live by and reshape them from harmful ones to helpful ones, in an effort to protect our environment, creating our own new stories, to further improve our ecological systems, and demonstrating that language can be a powerful force for change, in both environmental protection and in larger society.
We do volunteer project work with students at the university, and some of our current and past projects include working with NOAA to change signage at a popular turtle-sighting beach, providing translations for Muroto Haiko Aquarium in Japan, and creating teaching material for teachers to help promote ecological awareness in the second-language classroom. We strive to get students in many different fields to find ways to apply their knowledge to ecological conservation, in addition to using real-world skills outside of the university.
The event will also be catered.
Event Sponsor
N/A, Mānoa Campus
More Information
Maiko Ikeda, (808) 368-5381, contact.ponohawaii@gmail.com, http://www.ponohawaii.org
---
Friday, April 12

8:00am

SPAS Asian Studies Graduate Student Conference

Mānoa Campus, Center for Korean Studies 1881 East-West Rd, Honolulu, HI 96822
3:00pm

Educational Psychology Final Oral

Mānoa Campus, Wist 129
3:00pm

PONO Talks: Sust-'āina-bility through Non-Conventional Methods

Mānoa Campus, Biomed 103
3:30pm

Earth Sciences Seminar

Mānoa Campus, POST 723
3:30pm

Discourse and Meaning Making in School Change: A case study in China

Mānoa Campus, Wist Hall, Room 128, 1776 University Avenue, Honolulu, HI 96822
5:00pm

Family Advantage! Program Nights

Mānoa Campus, 2727 Woodlawn Drive, Honolulu, HI. 96822
7:30pm

Integral Bodies

Mānoa Campus, Kennedy Theatre
10:00pm

Corpus Interruptus

Mānoa Campus, Earle Ernst Lab Theatre, 1770 East-West Road, Honolulu, HI 96822