Bollywood Mondays: 'Lipstick Under My Burkha' (2016)
April 15, 3:30pm - 5:30pm
Mānoa Campus, Marine Sciences Building 100
---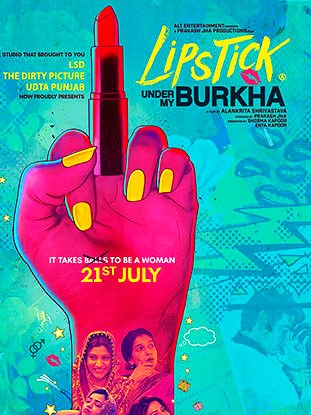 'Lipstick Under My Burkha' chronicles the stories of four Indian women (played by a stellar ensemble cast), whose loosely connected lives in the regional city of Bhopal are united in the women's individual rebellions against a patriarchal world. It is a bold, creative, necessary, and controversial film.
Unsurprisingly, the Indian Censor Board did battle with the movie's female director, Alankrita Shrivastava, dragging its own mission down in a farcical way (for example, decrying that the film is "too lady oriented"). 'Lipstick Under My Burkha' was finally released across India in 2017 following a highly successful run on the international film festival circuit, marking a victory for artistic freedom and for candid expressions of women's struggles and desires in life and cinema.
This is the final movie in the 17th UH Bollywood film series, this spring running one Monday afternoon per month. For a copy of the full film series schedule for the semester, please see the contact information below.
Ticket Information
Free and open to the public.
Event Sponsor
History, Mānoa Campus
More Information
Ned Bertz, (808) 956-6766, bertz@hawaii.edu
---
Monday, April 15

8:00am

CTAHR Student Research Symposium

Mānoa Campus, Campus Center Ballroom & 3rd Floor Rooms
12:00pm

ORE Seminar: Bioinspired Propulsion and Sensing Systems Enabling NextGen AUVs

Mānoa Campus, POST 723
12:00pm

Ocean and Resources Engineering Seminar: Michael Krieg

Mānoa Campus, POST 723
3:00pm

Climate Change in Cinema: Years of Living Dangerously (Season 2)

Mānoa Campus, St. John 011
3:00pm

Earth Sciences Thesis Defense

Mānoa Campus, POST 723
3:30pm

Bollywood Mondays: 'Lipstick Under My Burkha' (2016)

Mānoa Campus, Marine Sciences Building 100
4:00pm

RBG Movie Screening-Free

Mānoa Campus, Dean Hall Room 5
6:00pm

Security+

Honolulu Campus, 874 Dillinghan Blvd
11:30pm

Micr 690 Seminar: Brandi Antonio

Mānoa Campus, AGSCI 204