PRAXIS: 2019 Bachelor of Fine Arts Exhibition
April 21, 2019 - May 10, 2019
Mānoa Campus, Art Building, The Art Gallery
---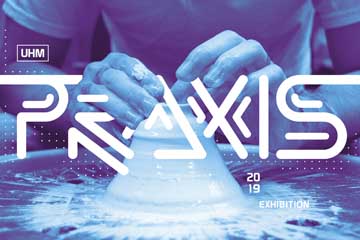 "PRAXIS: 2019 Bachelor of Fine Arts Exhibition" features works by BFA students in graphic design + studio art
April 21 – May 10, 2019 Commons Gallery (graphic design) The Art Gallery (studio art)
Special Events:
Sunday, April 21
2:00–3:00 p.m., Awards Ceremony, ART Auditorium
3:00–5:00 pm, Reception, The Art Gallery
Gallery walk-throughs with the artists, The Art Gallery, 3:00–4:00 p.m.
Monday, April 22
Wednesday, April 24
Friday, April 26
Our annual BFA Exhibition closes out each academic year with new works by the forthcoming graduates from the BFA program.
ARTISTS
Georgia Antonoglou, Ana Bitter, Lisa Chong, Henry Fradley, Sydney Gibbins, Ichiko Haberlin, Dannah Mari Hidalgo, Herman Jönsson, Jared Kanoa, Kristelle Kawasaki, Trevor Kodama, Max Kohara, Nathan Lehano, Amy Lowe, Dean Mabalot, Hailey Mock, Mat Nelen, Kelly Norn, Matthew Rademacher, Micaela Robinson, Carley Shimizu, Mylan Tran, Phoenix Tran, Bryan Villegas, Napua Wang, Lauren Yee
SPONSORS
University of Hawai'i at Mānoa's Department of Art + Art History and College of Arts + Humanities; Student Activity & Program Fee Board, UHM; and supported by Waikiki Parc Hotel – Hospitality Sponsor for the Arts at UH Mānoa.
Ticket Information
Gallery hours: Mon. – Fri. 10:00 a.m. – 4:00 p.m.; Sun. 12:00 – 4:00 p.m. Closed Saturdays. Admission is free. Donations are appreciated. Parking fees may apply.
Event Sponsor
Art + Art History, Mānoa Campus
More Information
Sharon Tasaka, (808) 956-8364, gallery@hawaii.edu, https://hawaii.edu/art/2019bfa/
---