Hawai'i's Changing Ocean: Bounty, Threats, Solutions
October 3, 6:30pm - 8:00pm
The Royal Hawaiian Resort, Regency Ballroom, 2259 Kalakaua Ave Honolulu, HI 96815
---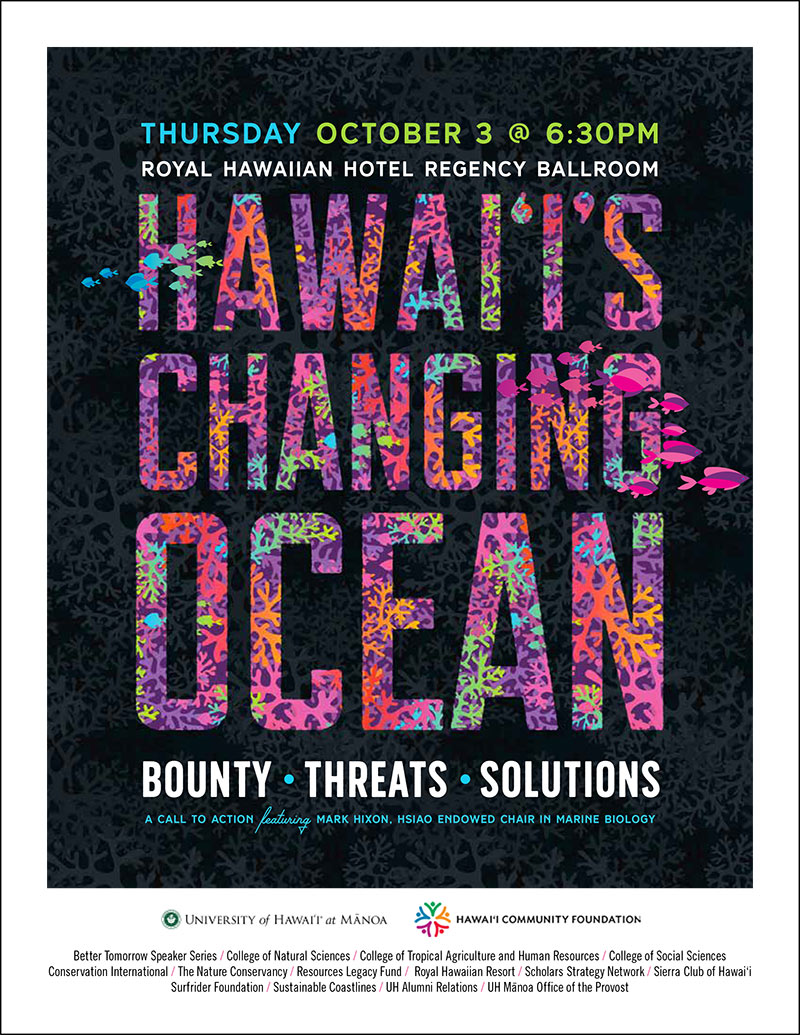 Please join us for a free public address by internationally acclaimed marine biologist Mark Hixon.
The Hsiao Endowed Chair in Marine Biology at the UH Manoa, MARK HIXON was recognized in 2004 as the most cited scientific author on coral-reef ecology in the United States. He is an Aldo Leopold Fellow and Fulbright Senior Scholar and has served as chair of the Ocean Sciences Advisory Committee for the National Science Foundation. His TED talks and TV and radio appearances have covered a variety of ocean issues.
Using stunning visuals, Hixon will summarize the many gifts our ocean provides us, describe human-caused threats to our coastal ecosystems, and review practical solutions he believes Hawai'i must implement as soon as possible. Many of the dangers we face are global, yet Hixon will emphasize remedies that Hawai'i can take within our coastal jurisdiction.
Presented by the University of Hawai'i at Manoa and the Hawai'i Community Foundation
Co-Sponsors:
Better Tomorrow Speaker Series, College of Natural Sciences, College of Social Sciences, Conservation International, College of Tropical Agriculture and Human Resources, Resources Legacy Fund, Royal Hawaiian Resort, Scholars Strategy Network, Sierra Club of Hawai'i, Surfrider Foundation, Sustainable Coastlines, UH Alumni Relations, The Nature Conservancy
Ticket Information
Free admission. The Royal Hawaiian offers validated event parking: $10 self-park and $15 valet. Validation can be received at the event.
Event Sponsor
Better Tomorrow Speaker Series, OVCAA, Mānoa Campus
More Information
Eriza Bareng, (202) 527-9174, btss@hawaii.edu, https://www.eventbrite.com/e/better-tomorrow-speaker-series-mark-hixon-tickets-72118892549
---
Thursday, October 3

8:00am

Molecular Biosciences & Bioengineering Final Oral

Mānoa Campus, Ag Engineering room 103
11:00am

KTUH College Radio Day at Campus Center with US Air Force Band

Mānoa Campus, Campus Center Courtyard
3:00pm

Graduate Student Seminar

Mānoa Campus, Marine Science Building 114
4:00pm

Korea's Socialist Century: A Reappraisal

Mānoa Campus, Center for Korean Studies
4:00pm

Mosquitoes and the Making of the Annamite Hill Country (Jonathan Padwe)

Mānoa Campus, George Hall 227
6:30pm

Hawai'i's Changing Ocean: Bounty, Threats, Solutions

The Royal Hawaiian Resort, Regency Ballroom, 2259 Kalakaua Ave Honolulu, HI 96815