Talk Between Lucas Blalock and Maika Pollack via Zoom
October 14, 12:00pm - 1:15pm
Mānoa Campus, Art Building, Commons Gallery
---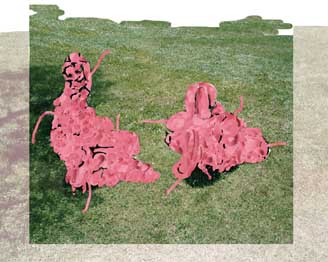 A talk between Lucas Blalock and Maika Pollack, curator of the series Out of the Camera: Beyond Photography will be held in conjunction with the exhibition, "Chapter One: Lucas Blalock," on view in the Commons Gallery through October 29. The talk will be held via Zoom.
Please go to https://hawaii.edu/art/exhibitions-events-museum/ for the Zoom link and other info.
This talk is made possible by the Laila Twigg-Smith Art Fund.
*Currently the UH Manoa campus is open to the campus community but closed to the general public due to the pandemic. Please check https://manoa.hawaii.edu/moving-forward/visitor-faqs/ for more info. Due to covid-19 restrictions this exhibition will be viewable from outside the gallery.
Ticket Information
Admission is free.
Event Sponsor
Art & Art History, Mānoa Campus
More Information
Sharon Tasaka, 808-956-8364, gallery@hawaii.edu, https://hawaii.edu/art/exhibitions-events-museum/
---
Wednesday, October 14

10:00am

It's Keiki Time with SPAM

Mānoa Campus, Zoom
11:00am

Applying for Scholarships

Honolulu Campus, https://www.honolulu.hawaii.edu/ikea
12:00pm

Gender in Japanese Legal Education: Preliminary exploration and comments

Mānoa Campus, Zoom
12:00pm

Song & Storytelling from Hawaii CC

Hawaiʻi Campus, Zoom
12:00pm

Talk Between Lucas Blalock and Maika Pollack via Zoom

Mānoa Campus, Art Building, Commons Gallery
2:00pm

Addressing Domestic Violence in Higher Education: Our Kuleana

Mānoa Campus, Zoom Webinar
2:00pm

WRRC/'Ike Wai Fall Seminar

Mānoa Campus, Zoom Meeting
3:00pm

Nagasaki Hibakusha Stories

Mānoa Campus, Webinar
3:00pm

Virtual Community Partner Spotlight

Mānoa Campus, 2600 Campus Road, QLC 209
3:30pm

Atmospheric Sciences Seminar

Mānoa Campus, Virtual Meeting
3:30pm

Seminar: Honouliuli Wastewater Outfall Alternatives Evaluation

Mānoa Campus, Zoom Meeting, Please see description for Meeting ID and Passcode
7:00pm

Brandt Webinar, Polynesian Ancestral Knowledge

Mānoa Campus, Online