Brandt Webinar, Polynesian Ancestral Knowledge
October 14, 7:00pm - 8:30pm
Mānoa Campus, Online
---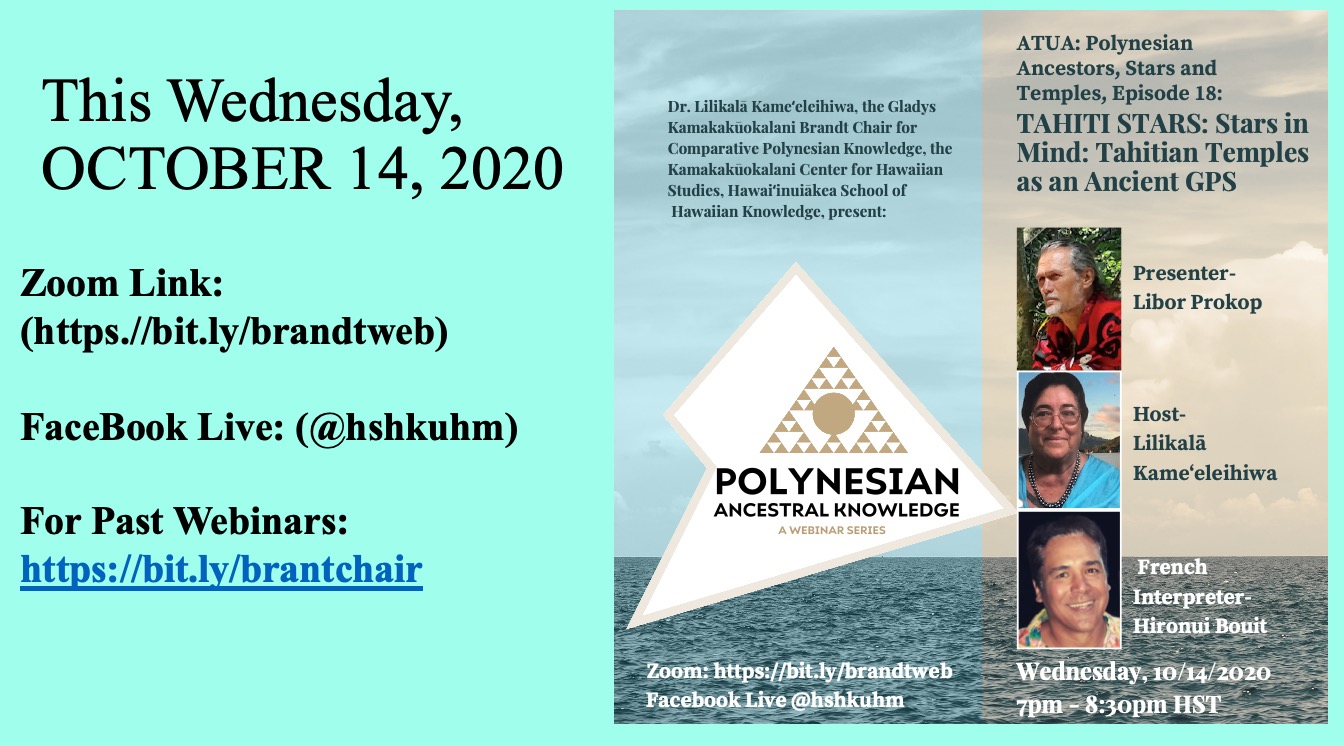 Please join us this Wednesday evening on https://bit.ly/brandtweb on October 14, 2020 at 7 p.m. for our 18th Brandt Webinar focusing on TAHITI STARS: Stars in Mind, Tahitian Temples as an Ancient GPS by Libor Prokop, a Tahitian Ethno-Astronomer who works with the Haururu Association of Papenoo, that is dedicated to preserving Tahitian Ancestral knowledge, especially about Tahitian temples and stars.
I hope you enjoyed our presentation last week on HAWAII: WAKEA 2: Function of Elemental Gods Within the Domain of Wakea by Dr. Pualani Kanahele of the Edith Kanakaole Foundation. If you missed it, you can catch it at https://bit.ly/brandtchair.
Please share the attached flyers with all of your family, friends, and networks.
Mahalo nui loa for all of your support of the Brandt Webinars on Polynesian Ancestral Knowledge!
Ticket Information
Free - Online
Event Sponsor
Hawaiinuiakea School of Hawaiian Knowledge, Mānoa Campus
More Information
Lilikala Kameeleihiwa, (808) 956-0592, lilikala@hawaii.edu, https://bit.ly/brandtchair
---
Wednesday, October 14

10:00am

It's Keiki Time with SPAM

Mānoa Campus, Zoom
11:00am

Applying for Scholarships

Honolulu Campus, https://www.honolulu.hawaii.edu/ikea
12:00pm

Gender in Japanese Legal Education: Preliminary exploration and comments

Mānoa Campus, Zoom
12:00pm

Song & Storytelling from Hawaii CC

Hawaiʻi Campus, Zoom
12:00pm

Talk Between Lucas Blalock and Maika Pollack via Zoom

Mānoa Campus, Art Building, Commons Gallery
2:00pm

Addressing Domestic Violence in Higher Education: Our Kuleana

Mānoa Campus, Zoom Webinar
2:00pm

WRRC/'Ike Wai Fall Seminar

Mānoa Campus, Zoom Meeting
3:00pm

Nagasaki Hibakusha Stories

Mānoa Campus, Webinar
3:00pm

Virtual Community Partner Spotlight

Mānoa Campus, 2600 Campus Road, QLC 209
3:30pm

Atmospheric Sciences Seminar

Mānoa Campus, Virtual Meeting
3:30pm

Seminar: Honouliuli Wastewater Outfall Alternatives Evaluation

Mānoa Campus, Zoom Meeting, Please see description for Meeting ID and Passcode
7:00pm

Brandt Webinar, Polynesian Ancestral Knowledge

Mānoa Campus, Online