Sadaf Naeem: Threads of Empathy, Knotting the Unseen
March 20, 2022 - March 31, 2022
Mānoa Campus, Art Building, Commons Gallery
---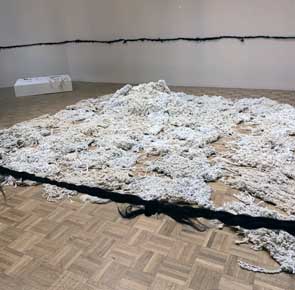 The Department of Art and Art History, UHM, is proud to highlight Sadaf Naeem, one of its six MFA candidates in 2022. Naeem presents "Threads of Empathy, Knotting the Unseen," her MFA thesis exhibition.
MFA Thesis Defense via Zoom on March 30, 1:30 p.m., HST (go to website for links, etc.)
Sadaf Naeem makes visible the connection between physical labor and women's unseen emotional work. Utilizing cotton cords made by women in Punjab, Pakistan, she practices an intensive method of knotting and braiding that emerges from everyday acts like making hair braids or tying a knot to get dressed. The installation consists of three components entitled "Knotted Bodies," "Braided Body," and "Unfolded." Together, they are a confrontation of childhood memories and a metaphor for healing.
Bio Sadaf Naeem (b. Sahiwal, Pakistan) received her BFA degree from the National College of Arts (Lahore, Pakistan). She has presented solo exhibitions at GRRIC, University of Hawai'i at Mānoa (UHM) (2021); O Art Space (Lahore, Pakistan) (2019); and Chawkandi Art Gallery (Karachi, Pakistan) (2017). Naeem produced an art installation at Alliance Française for the Karachi Biennale (2019). Her work was presented in the group exhibitions "Euphonic Palettes," Nitanjali Art Gallery, Sheraton Hotel and Towers, Mumbai, India; "Lantern of the East, the 16th Pyeongtaek International Art Festival," Korea; and at Colombo Art Gallery, Sri Lanka; as well as an auction organized by the Scarsdale Foundation, New York. She is the recipient of the 2020 Award of Merit in the Memory of Ethel Portner in the group show "Fiber Hawai'i 2020" at Gallery 'lolani, Hawai'i; the East-West Center Foundation Scholarship (2020–2021); and the Shore Hodge Lipsher Memorial Award (UHM) (2020, 2021).
Information, dates, times are subject to change.
Ticket Information
Following current covid-19 protocols. Gallery hours: Sun.–Thur. 12:00 p.m.–4:00 p.m.; Closed Fri., Sat. Viewable through gallery windows.
Event Sponsor
Art & Art History, Mānoa Campus
More Information
Sharon Tasaka, 808-956-8364, gallery@hawaii.edu, https://hawaii.edu/art/2022-leonard-everett-noordhoff-naeem-davis-talamantez/
---