Nippon Culture Day
October 28, 9:00am - 2:00pm
Mānoa Campus, Campus Center Ballroom
---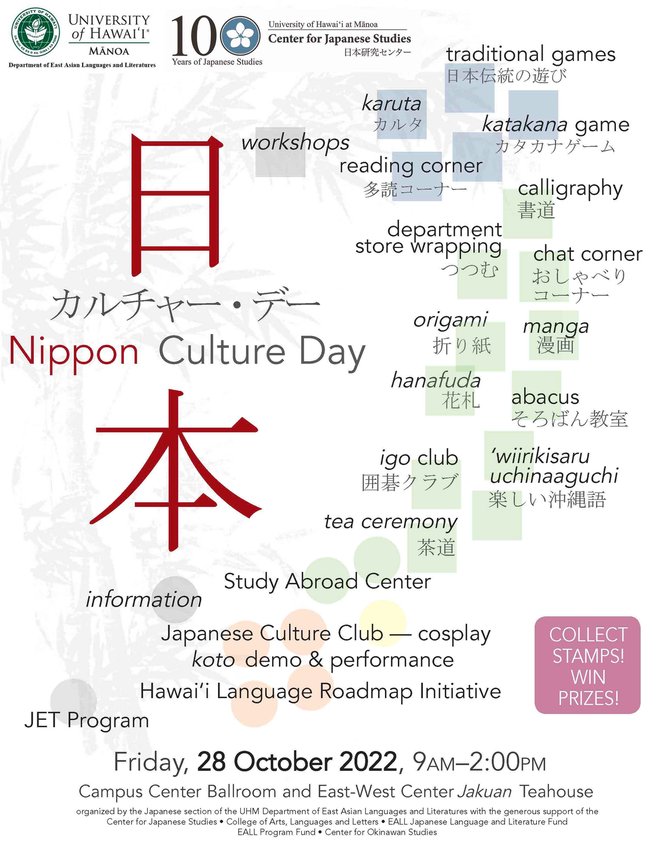 Nippon Culture Day provides high-school and college students with an opportunity to experience traditional and contemporary Japanese culture firsthand. Approximately 600 to 700 students and visitors attend every year. The event was unfortunately cancelled in 2020 and 2021 due to the pandemic, but we are finally able to host it again after a two-year hiatus. There will be more than 10 plus workshops such as calligraphy, origami, abacus, gift-wrapping, etc. for everyone to participate in. The event is free and it will be a great opportunity to learn about Japan. We hope to see you there!
Event Sponsor
East Asian Languages and Literatures, Mānoa Campus
More Information
Pier-Carlo Tommasi, tommasi@hawaii.edu, https://manoa.hawaii.edu/eall/2022/10/21/nippon-culture-day-on-october-28/
---
Friday, October 28

7:30am

Water Resilience in Hawai'i: A UH Innovation Conference

Hawai'i Convention Center
9:00am

Nippon Culture Day

Mānoa Campus, Campus Center Ballroom
10:00am

Got Kids? Drop In & Talk Story with the Student Parents @ Mānoa Program

Mānoa Campus, Drop-Ins Encouraged! QLCSS 412
10:00am

Public Health Final Oral

Mānoa Campus, Biomedical Building D207
12:00pm

Public Health Graduate Programs Virtual Info Session

Mānoa Campus, Virtual on Zoom
1:30pm

Yoga for Stress Relief: All Levels Yoga Class

Mānoa Campus, Kuykendall 106 Events Room
3:00pm

Architecture Final Oral

Mānoa Campus, Zoom Video Conferencing, Link Below
7:30pm

Dmytro Choni, 2022 Van Cliburn International Piano Competition Medalist

Mānoa Campus, 2411 Dole St.