Effective October 17, 2018, all Banner Admin Pages users are required to use MFA.
What is Multi-Factor Authentication?
Multi-Factor Authentication (MFA) is a well-vetted method to improve UH account security and help protect personal and institutional information. It provides an extra layer of protection on top of your UH password. MFA is increasingly being used by service providers around the country, such as banks, credit card companies, and even social media providers to strengthen the security of their systems. When MFA is enabled, the UH Login requires two factors for a successful login. The first factor is to log-in using the UH Username and password. The second factor requires authentication through a device (such as smartphone, landline, passcodes, or hard token) to login. Using these multiple factors provides added security to users' UH account.
For more information on UH Login and MFA, please proceed to the UH Login Information page.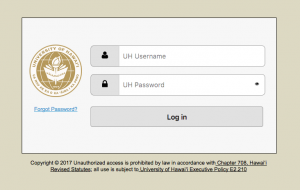 Why did we move in this direction?
Banner 9 introduced changes to Banner security as users will be logging in to Admin Pages using their UH Username and password, the same way they would to access other UH online resources (i.e. Google@UH, Online Leave, Pay Statements, etc.). If an Admin Pages user's UH Username and password are compromised (via malware or phishing, for example), there is a risk that the Banner SIS may be compromised as well. This is a growing security concern so it is vitally important to reduce security risks as much as possible. With this in mind, the Council of Senior Student Affairs Officers (CSSAO) approved the requirement of using MFA for all Banner users.
How do I sign up for MFA?
For more information on setting up your MFA, please proceed to the Getting Started with Multi-Factor Authentication (MFA) page.
For Assistance Contact the ITS Help Desk
Phone: 808-956-8883 or toll free (neighbor islands) at 800-558-2669
Email: help@hawaii.edu