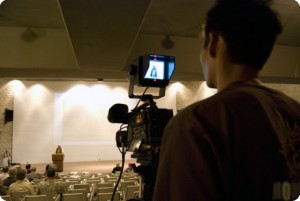 *Requires Adobe Reader. You may download Adobe Reader here
Talent Release Form
People appearing in videos, photos, or on audio recordings produced by the University of Hawai'i may need to complete this form in order to grant the University the rights and permissions to use those images or recordings. It is best to have these forms signed prior to the shoot.
Location Release Form
At times you may need to obtain written permission to videotape on premises other than the University of Hawai'i campus, this usually includes places of business and private properties. Permissions need to be obtained before any recordings can proceed.
Copyright Information
Want to include a clip from a movie or television program into your video? Chances are that you may run into copyright infringement issues. Oftentimes a movie or program you purchased may only allow you to view the program only at home, not in a classroom or presentation setting. This also applies to programming you may have recorded from a television broadcast or video clips found online.
For more information, please refer to the Copyright, Fair Use, and TEACH Act (via American Library Association)
Contact Information
Video Operations
Phone: (808) 956-2408
Email: vidpro-l@lists.hawaii.edu
Hours of Operation
Monday - Friday
8:30am - 5:00pm
*Hours may vary - dependent upon event production
Mailing Address
Information Technology Center
2520 Correa Road
Honolulu, HI 96822