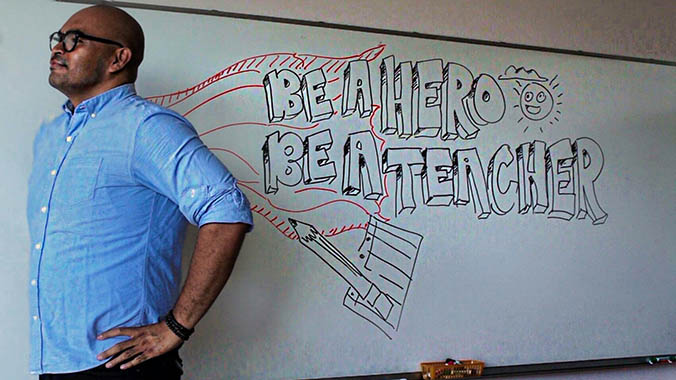 The University of Hawaiʻi has launched a multi-media campaign aimed at addressing Hawaiʻi's teacher shortage. "Be a hero. Be a teacher." encourages high school and college students, as well as working professionals, to consider the importance and benefits of the teaching profession. The "Be a hero. Be a teacher." campaign also uplifts current teachers and reminds everyone how important teachers are to our society.
Hawaiʻi Department of Education statistics show mounting vacancies over the past five years, from a shortage of 334 in the school year ending 2013 to 531 in 2017.
"The State of Hawaiʻi has faced teacher shortages for years, and it is crystal clear that we need to grow more teachers from our own communities," said UH President David Lassner. "This campaign highlights the multitude of options available at UH campuses to earn a teaching degree or certificate that can lead to a very fulfilling career right here at home."
The key components of the campaign are two professional videos for use online, on social media and as part of a future public service announcement campaign:
The poem was written and performed by Clint Anderson, alumnus of the UH Hilo School of Education and dean of studies at Kamehameha Schools Hawaiʻi High School—Kula Kiʻekiʻe
Posters have also begun going up at UH campuses and public and private schools across the state.
The videos and posters are meant to drive future teachers to the Be a Hero. Be a Teacher. website that showcases the pathways and programs available at UH to gain teaching credentials. Four UH campuses offer teacher credentialing programs; UH Mānoa, UH Hilo (School of Education and Kahuawaiola Teacher Education Program), UH West Oʻahu and Leeward Community College.
"Our hope is that students entering college or who are on their way to earning a degree will look at teaching as a profession that provides rewards on many levels," said Donald Straney, vice president for Academic Planning and Policy. "This campaign speaks to the very important role that teachers play for students and our society, and aims to inspire those who may not have considered a career in teaching, to take another look."
Current Heroes
There are currently more than 12,700 public school teachers in Hawaiʻi who can all be considered heroes. One of them is Jennifer Hudson, a third grade teacher at Ala Wai Elementary, who graduated from the UH Mānoa College of Education in 2012. She thinks the "Be a hero. Be a teacher." campaign is a great way to get people to consider a career in teaching.
"It is a great way to spotlight the profession by highlighting many of the benefits available today," said Hudson. "It is something that I have a tremendous amount of passion for because you really are making a difference in so many lives." Hudson is quick to acknowledge that there are many challenges, but they are outweighed by the rewards, such as former students returning to visit, including those from her time as a student teacher.
"I am really big on relationships," said Hudson. "When the kids take the time to come back, visit and ask if they can help, I cannot describe how great it makes me feel. Those are things that keep me in it because at the end of the day it boils down to students."
The hero of the "Be a hero. Be a teacher." campaign
One of the heroes of the "Be a hero. Be a teacher." campaign was Ernest "Niki" Libarios Jr., the UH Mānoa College of Education (COE) director of the Office of Student Academic Services. Libarios led a faculty discipline group on education, represented by educators at the four UH campuses, to develop the campaign, produced by local advertising firm Kai Media.
"Niki took the lead in designing and creating the campaign on behalf of the UH System," said COE Dean Donald Young. "The videos are a tribute to his knowledge, expertise and leadership."
Libarios is responsible for the direction of the campaign, getting people excited about becoming a teacher, according to Denise Nakaoka, who worked with him at the COE Office of Student Academic Services.
"Niki was passionate about uplifting the teaching profession," said Nakaoka. "He comes from a family of educators both at the high school and post-secondary level, he was a former elementary school teacher, and had devoted 18 years of his career at the College of Education, so this campaign was very personal to him."
Libarios also recruited many of the teachers and students in the videos and also appeared himself, which helped keep the project affordable. Libarios unexpectedly passed away at the age of 47 just as the campaign was launching. The slam poet version of "Be a hero. Be a teacher." includes a dedication to Libarios at the end.