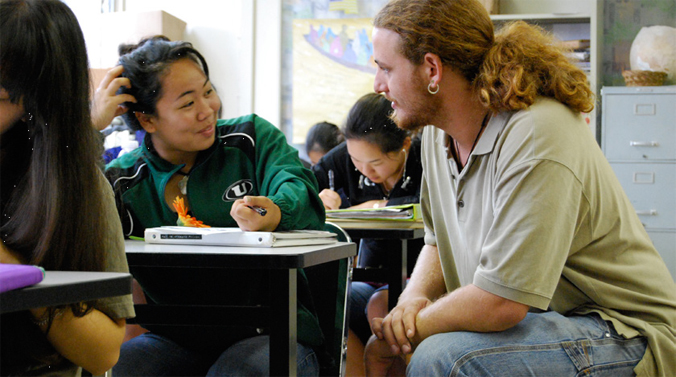 The University of Hawaiʻi at Mānoa School of Nursing and Dental Hygiene, John A. Burns School of Medicine, William S. Richardson School of Law, Myron B. Thompson School of Social Work, Shidler College of Business, College of Education and College of Social Sciences are ranked by U.S. News and World Report in its just-released 2019 Best Graduate Schools list.
The 2019 edition evaluates graduate schools on a variety of factors, including acceptance rates, standardized test scores and grade-point averages of incoming students and academic experts' opinions about program excellence.
"We are proud that our graduate programs continue to receive national recognition for their excellence," said UH Mānoa Interim Chancellor David Lassner. "This reflects the expertise of our faculty and the strength of our academic standards, which ensure that Hawaiʻi students can affordably attend programs that are rated among the best in the country."
School of Nursing and Dental Hygiene
The state's premier nursing school continues to rise in the master's and doctor of nursing practice (DNP) rankings. The U.S. News 2019 Best Graduate Schools ranked the nursing master's program in the top third, 87 out of 292 schools, and the DNP program in the top 50 percent nationwide, ranking 86 out of 202 schools.
U.S. News also ranked UH Mānoa nursing in the top tier, 35 out of 154 schools, for Best Online Graduate Nursing Programs in 2018.
John A. Burns School of Medicine
The John A. Burns School of Medicine (JABSOM) ranked 41 nationally in medical research and 59 in medical primary care among 177 medical schools in America. JABSOM faculty outscored Johns Hopkins, Duke, Harvard, Michigan and UCLA, among others, in capturing in excess of $334,000/per faculty member in National Institutes of Health grant funds, according to the magazine.
In addition, the medical school did well in a comparison of all accredited U.S. and Canadian medical schools, according to data recently collected and released by the Association of American Medical Colleges. Read more.
William S. Richardson School of Law
The law school's evening part-time program moved up 8 points into the top 25 in the annual national rankings. This year the part-time program is ranked 21 out of 73, compared with 29 a year ago.
The full-time program slipped one slot and was ranked 101 out of 194 American Bar Association-accredited American law schools. The law school remains among the nation's top tier law schools, with one of the best student/faculty ratios at 4.7. Its tuition is also among the lowest for law schools.
Myron B. Thompson School of Social Work
The Myron B. Thompson School of Social Work ranked 59 of 234, placing it in the top 25 percent of programs nationally for the past five years. Degree offerings include UH Mānoa-based Master of Social Work (MSW) and Bachelor of Social Work (BSW) options, as well as a MSW distance education option and, beginning in fall 2018, a fully online BSW program and a doctorate in social welfare. The 320 social work students contribute over 54,000 hours each year in service to their communities through internships.
Shidler College of Business
The part-time master of business administration program (Global MBA, 36-month plan) at the Shidler College of Business is ranked 152 among 360 part-time MBA programs that qualified for the ranking. The part-time MBA program is the only Association to Advance Collegiate Schools of Business International accredited program in Hawaiʻi.
College of Education
The college moved up 5 points and ranked 64 of 267 schools in the 2019 U.S. News Best Graduate Schools edition. For more than a decade, the College of Education has been in the top 100 teacher preparation schools and remains at the top for funded research, having been awarded more than $17 million in contracts and grants in 2017.
College of Social Sciences
The Public Administration Program (PUBA) at the College of Social Sciences ranked 123 in the 2019 U.S. News Best Graduate Schools edition. The Master's of Public Administration program is the only Network of Schools of Public Policy, Affairs, and Administration (NASPAA) accredited program in Hawaiʻi.
PUBA offers an 18-month accelerated, 2-year full time, and 3-year part time plan.