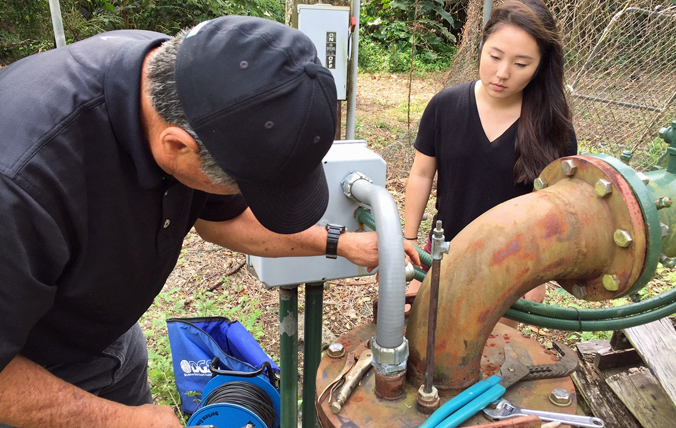 As many of Hawaiʻi's leading water professionals near retirement, there's an urgent need to train a new local workforce of scientists. That's happening at the University of Hawaiʻi at Mānoa thanks to ʻIke Wai, a large five-year project funded by the National Science Foundation that aims to understand how water moves and is captured and stored underground in Hawaiʻi. Its main study sites include the Kona and Pearl Harbor aquifer systems.
"We have been working to recruit new experts to enhance STEM education locally and to train young folks from our communities to become scientists and stewards of our place," said Darren Lerner, director of the Water Resources Research Center at UH Mānoa. "Ignoring the importance of cultural knowledge and sense of place creates the possibility for making decisions that are out of sync with cultural placed-based needs, driving a wedge between our communities and our policies."
Born and raised on Maui, graduate student Brytne Okuhata is one of the next generation of water professionals in training. In fall 2017, Okuhata successfully defended her research project, "Modeling Aquifer Response to Water Harvesting in Nuʻuanu and Kalihi, Oʻahu, Hawaiʻi," to receive her master of science degree in geology and geophysics in the School of Ocean and Earth Science and Technology.
Using her prior hydrogeology knowledge, Okuhata created a groundwater model to simulate aquifer systems in Nuʻuanu and Kalihi, which will help to inform other scientists how subsurface groundwater flows so predictions can be made before conducting fieldwork in an area.
Said Steve Anthony, director of the U.S. Geological Survey Pacific Islands Water Science Center, "UH helps us develop the next generation hydrologists needed to conduct water-resources investigations in Hawaiʻi. A thorough understanding of the hydrogeology of the islands and skills in numerical modeling of groundwater resources are critical attributes that the university is uniquely poised to offer."
Okuhata is now working on her doctorate degree in geology and geophysics, guided by Professor Aly El-Kadi, who served as a mentor during her master's thesis research. "Working on my master's model helped me to better prepare for any obstacles that might come from working on the Kona model," said Okuhata.
Her dissertation research focuses on the aquifer systems in Kona on Hawaiʻi Island and Pearl Harbor. "The Oʻahu model is important because the aquifer systems contribute to the water supply for a large population and the Big Island model is important because it's a poorly understood area," she added.
As a graduate scholar in the ʻIke Wai project, Okuhata receives a tuition waiver and also earns a salary to conduct this research.
Doing her part to understand the current situation of Hawaiʻi's water recharge reduction through groundwater mapping, Okuhata belongs to a diverse group of scholars who aim to find solutions for this ongoing issue using different perspectives—geophysics, chemistry, economics and more to secure Hawaiʻi's water future.
—Written by Kayla Valera, an ʻIke Wai undergraduate scholar from Kapiʻolani Community College