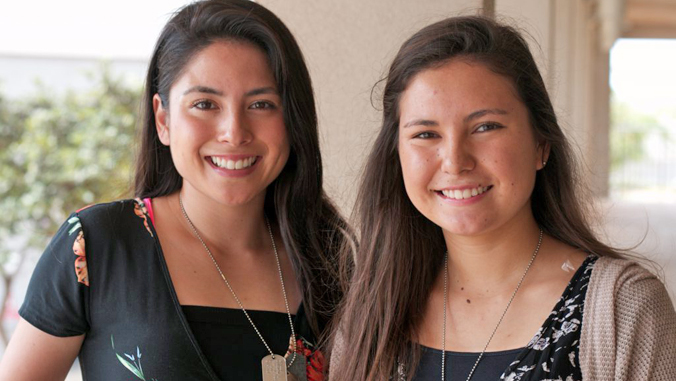 University of Hawaiʻi–West Oʻahu students Chelsea and Mylia Briggs were born two years apart, yet are almost mirror images of each other when it comes to motivation and desire to achieve.
Both plan to obtain double majors and both have their career paths set (FBI agent and entrepreneur, respectively). Both have enjoyed success at an early age, and feel obligated through their volunteer work to help others not so fortunate.
"Chelsea and I always work very hard towards our education and anything we set our minds to," wrote Mylia in an email. That mindset is backed by an understanding that the sisters are there for one another and for their family and they will be there to support and help through any hardship.
To doubt the Briggs sisters' intense focus is to ignore their long list of achievements. Earlier this year, Chelsea became a pageant contestant for the first time. She entered the 66th Cherry Blossom Festival competition and became a Cherry Blossom Princess—the first princesses from Kapolei. In typical fashion, Chelsea recounts how she has benefitted, reeling off personal growth, increased knowledge of Japanese culture and mannerisms, and becoming a better public speaker as being among the dividends.
Mylia, who was Kapolei High School's 2017–18 Outstanding Student of the Year, was one of 161 high school seniors recognized nationally as a U.S. Presidential Scholar. She was the only Hawaiʻi public school student selected this year. Mylia traveled to Washington, D.C. with other talented Presidential Scholars, toured the White House and met the president.
"I would not say that there is a competition between us," wrote Chelsea. "We are very close and we help each other because there is no better bond that we could have with anyone else."
Read more about Chelsea and Mylia including how they overcame a personal tragedy and why they chose to attend UH West Oʻahu at E Kamakani Hou.
—By Greg Wiles