The University of Hawaiʻi–West Oʻahu showcased its $32–million campus addition during the grand opening for the new Administration and Health Science building on December 12. The event drew approximately 150 people.
Legislators and others who assisted in bringing the project to fruition were thanked for their work and support. "A state project like this does not come easily," said UH System Vice President Kalbert Young. "It takes a lot of commitment."
Speakers included Ryan Bradley Domingo, a pre-med student who is pursuing dual degree concentrations in health care administration and community health. "As a student who will conduct research and have several classes here this coming January, I am filled with a strong sense of pride and promise," Domingo said. "I have pride in becoming the first of my peers to walk these halls and classrooms, holding on to the promise of following the footsteps of many others who have graduated from this wonderful place of learning."
First new structure since 2012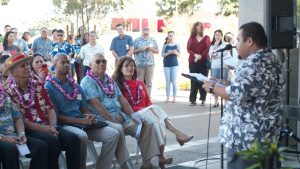 The nearly 44,000-square-foot building is the first structure added to the campus since the move to its current Kapolei location in 2012. The building adds much-needed teaching and office space to UH West Oʻahu, which for the past two years has been identified as the fastest-growing school of its type in the nation by the Chronicle of Higher Education's annual almanac.
"Our newest building, with its beautiful landscaping and innovative design (homage to our mountains and place), welcomes back to campus our administrative teams, which have lived off campus for several years." said UH West Oʻahu Chancellor Maenette Benham.
"We also celebrate the new home for our signature health sciences program to a building designed to engage students, faculty and professionals in epic thinking and collaboration! They will benefit greatly from interdisciplinary and transdisciplinary engagement in our state-of-the-art classrooms and research laboratories. I have no doubt that these new learning and teaching spaces will have tremendous impact on the quality of students and graduates!"
Classes in the new structure begin with the spring 2019 semester. The building was completed approximately two years after the groundbreaking in November 2016.
Besides providing a home to administrative functions, the building also houses classrooms for health sciences and laboratories for the teaching of anatomy, cellular biology and microbiology. The building features 10 classrooms (one of which is a computer lab), three labs and two support labs along with offices for the faculty and instructional staff.
The Administration and Health Science building also was designed with sustainability features that include greywater, air conditioning condensate and rain catchment collection systems for landscaping irrigation; selection of nitrogen-fixing plants to restore soil nutrients; and solar hot water. Additionally, there are plans to install a 100-kilowatt rooftop photovoltaic system.
Distinct architecture
The Administration and Health Science building features a distinctive design in keeping with its designation as a "landmark" structure standing at the entrance to the campus. Honolulu-based KYA Design Group and the Los Angeles studio of Perkins + Will took cues from the site's history in coming up with an unusual roofline and exterior. The gable roof style draws upon the architecture of sugar mills that once dotted Oʻahu, while the exterior masonry incorporates angular patterns that recall those on kapa, or traditional Hawaiian bark cloth.
The building's unusual look has attracted attention from several architectural publications, which have featured renderings and photos of the structure. This includes write-ups in WorldArchitectureNews.com, ArchitectMagazine.com, Construction Curated, and The Architects Newspaper. The project won a 2015 Award of Merit from AIA Honolulu.
—By Greg Wiles