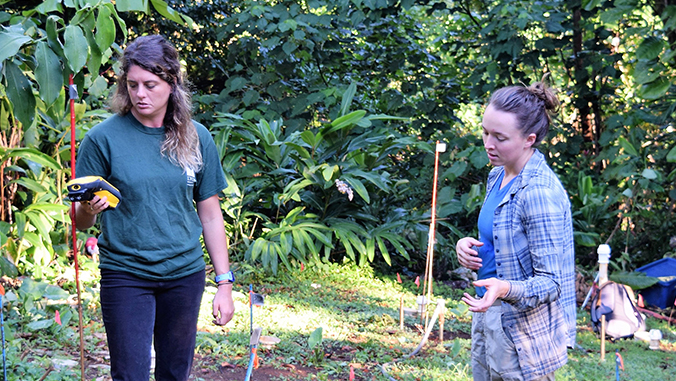 A new geographic information system (GIS) device being employed at the University of Hawaiʻi at Mānoa Harold L. Lyon Arboretum allows users to locate plants on its property and view metadata gathered over 100 years.
"This new interface opens up 100 years of Lyon's collections history right onto your laptop," said Rakan Zahawi, Lyon Arboretum director. "It is a great tool for both researchers and avid plant enthusiasts, and we hope that it will get a lot of use."
The lab is headed by Jessica Adinolfi, who was a GIS analyst with the United States Army Corps of Engineers.
"I am excited to help upgrade this critical part of managing the arboretum's living collection," said Adinolfi. "By bringing the information into this platform, we are making the work of so many dedicated people available to everyone."
Funded by donors, the arboretum acquired the latest equipment and tools to develop a new online interactive map as well as other mapping projects. The lab uses the latest Trimble GPS (GIS) unit, which maps the living collection and other features.
Casey McGrath, a UH Mānoa College of Tropical Agriculture and Human Resources graduate student is already utilizing the GIS lab services. McGrath established an experimental site at the arboretum to understand how Hawaiian soils will respond to climate change.
"Through mapping the locations of the temperature sensors and heaters across the field site, the GIS lab is aiding the project in understanding the spatial relationships between soil temperature and other soil properties," said McGrath.
The lab is migrating the living collection data into ArcGIS, which provides a streamlined and comprehensive system for managing the approximately 20,000 entries in Lyon's living collection.
Users can filter by plant family or other traits and view the location and information for 1,054 accessions currently on the map. The map is not yet fully populated, and Adinolfi hopes student interns and volunteers will help expedite the process.