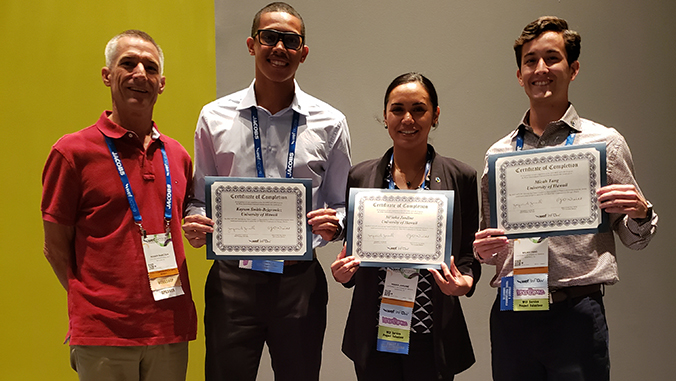 Attending a water environment conference and networking with industry leaders who are themselves minorities may have changed the educational focus, and possibly career paths, for three Native Hawaiian undergraduates.
University of Hawaiʻi at Mānoa civil engineering students Hiʻiaka Jardine, Kayson Smith-Bejgrowicz and Micah Tang attended the Water Environment Federation Technical Exhibition and Conference 2019 (WEFTEC) in Chicago, in September on all expense-paid scholarships sponsored by the Water Environmental Federation and several national/international companies called InFLOW (Introducing Future Leaders to Opportunities in Water).
"Meeting the most important people in the industry was a truly inspiring experience." said Tang, "I am more than thrilled to know that I've found my purpose in the world."
Tang is also part of UH Mānoa's Bachelor's and Master's program (BAM), a fast-track combined bachelor's and master's degree that was implemented in spring 2019.
InFLOW introduces underrepresented students to work in the water sector by industry leaders who are themselves minorities. The program also provides mentorship and a path for future career growth.
The students also volunteered at a community service project at a Chicago school and toured the world's largest wastewater treatment plant.
"This was only the second year of the five-day InFLOW event and the first time that UH students were invited. The UH students had an amazing experience and represented the college very well. I expect to bring three more students to the 2020 program in New Orleans," said UH Professor Roger Babcock, who has attended WEFTEC for more than 25 years and gave two technical presentations.
WEFTEC is the largest annual conference in the Americas with 25,000 attendees and more than 1,000 companies/manufacturers in the exhibit halls.