The Regents' Medal for Excellence in Teaching is awarded by the Board of Regents as a tribute to faculty members who exhibit an extraordinary level of subject mastery and scholarship, teaching effectiveness and creativity and personal values that benefit students.
Andrew Akana
Andrew Akana is an instructor in Kapiʻolani Community College's Emergency Medical Services (EMS) Department. Before joining the college, first as a skills tester then a lecturer, Akana served as a paramedic and educator for the City and County of Honolulu's Emergency Medical Services Division. He became a full-time instructor at Kapiʻolani CC in 2015.
Akana uses critical-thinking scenarios so his students can apply their knowledge and skills. By simulating emergency situations, he feels students will be better prepared and confident professionals as they attend to the health and safety in the communities they will serve.
Akana has been recognized as a Nationally Certified EMS Educator by the National Association of EMS Educators, and he was the recipient of the 2019 Hawaiʻi Association of Career and Technical Education—Postsecondary Instructor of the Year Award.
He is grateful to Jeffrey Zuckernick, professor of EMS at Kapiʻolani CC, and Captain Michael Jones of the Honolulu Fire Department, who influenced his career, and thanks his wife Whitney and his son Kyle, who have contributed to his achievements.
Roger Babcock
Roger Babcock is a professor in Civil and Environmental Engineering in the UH Mānoa College of Engineering. Since 1995, he has been teaching at the college with a joint-appointment in the Water Resources Research Center.
He is very proud to be called an educator of the next generation of civil engineers. Students appreciate his innovative approaches to teaching, including flipped classroom and design thinking models of instruction. He brings his expertise as a licensed professional engineer to the role of educator through his eight-week review course. Students review his conference presentations to stimulate questions and interest.
Babcock's sponsorship of three Native Hawaiian students to attend a national conference focused on introducing future leaders to the field led to all three entering the field of engineering. A recent graduate working in the community writes: "It is not hyperbolic to say that no singular person has as much effect on the future of civil engineering in Hawaiʻi as Dr. Roger Babcock."
Charlotte Frambaugh-Kritzer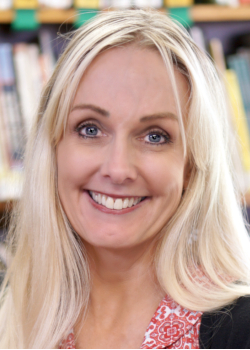 Charlotte Frambaugh-Kritzer is a professor of Secondary Education in Reading in the UH Mānoa College of Education. She strives to present a balance of theory, research and practice in engaging and innovative ways. Her pedagogy incorporates social justice standards and literacy strategies that include: rich discussion, critical thinking and writing, media, applicable assignments and technology.
One of Frambaugh-Kritzer's strengths is the ability to bridge the gap between theory and practice. A student describes her as "a visual designer of learning experiences." A colleague observes her teaching is based on "a foundation of discipline and hard work, a fine-tuned perception of people, a keen intelligence and a passion for teaching."
She sets very high expectations for herself as director, teacher and researcher and then leads by example. Graduate students say, "She showed me what respect looks like in education," and "She curates a culture and climate in which everyone learns from one another, all collaborating in the co-creation of new knowledge. The community developed in our ITE 401 transformed the student experience."
Alexander Mawyer
Alexander Mawyer is an associate professor in UH Mānoa's Center for Pacific Islands Studies in the School of Pacific and Asian Studies. He is known by colleagues as a gifted scholar and teacher with an international reputation for academic excellence.
His publication, Islands of French Speaking Oceania (2019), brings together academics across French-speaking Pacific to create a student-centered digital text to be downloaded freely anywhere Pacific Islands Studies are taught. His work with graduate students in nine departments on campus also extends globally. He is described as having a sweeping, intellectual grasp on biocultural diversity that melds science, history, anthropology and linguistics.
At the heart of his teaching is the belief that learning is generated in conversation with others—through essaying, charting, comparing and critiquing—to cultivate a conversational, productive pedagogy in contrast to an adversarial, consumer one. A student writes, "Professor Mawyer's teaching ethos and praxis is radical trust, empathy and transparency. He builds vivacious learning communities, fosters bold and ethical research and empowers students to become self-actualized versions of themselves."
Jeffrey Mexia
Jeffrey Mexia is an assistant professor of English and the professional development coordinator at Kauaʻi Community College. He began his career at Kauaʻi CC as a lecturer for the English program in 2005.
Mexia believes "that all educators should nurture, inspire and empower their students, while instilling a love of learning."
His dedication to Hawaiʻi, its indigenous people and local culture was noted by a fellow faculty member who said, "Jeff is committed to experiential place-based learning to enrich both our faculty and students' experiences. He has done this for new faculty and staff through excursions and retreats."
Another colleague noted Mexia's foresight and ability to provide innovative training to support the abrupt shift to online teaching due to the COVID-19 pandemic.
The Kahaluʻu, Oʻahu native received his BA and MA in English from the University of Hawaiʻi at Mānoa. Mexia credits his success as an educator to his former teachers, particularly those in the UH Mānoa Department of English, and colleagues from across the UH system.
Teena Michael
Teena Michael is a botany and microbiology instructor at Windward Community College. Michael is an inspiration to her students and colleagues, approachable, and passionate about her discipline in a way that's infectious to her students. Many of her students go on to earn certificates in agripharmatech and degrees in natural sciences.
One student who went from taking one class to being a full-time student and is now a Natural Resources and Environmental Management major at UH Mānoa, said Michael changed her life, "She showed me a world in the sciences that I wanted to be a part of. She made these difficult science subjects non-intimidating and made me feel like I belonged in that white coat."
Michael actively engages her students with the community through sustainability events and is involved in campus landscaping and tree planting efforts through her involvement with the Sustainability Club and membership in the campus' Aesthetics Committee.
Kirsten Møllegaard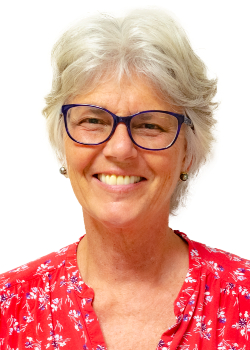 Kirsten Møllegaard is a professor and chair of English at University of Hawaiʻi at Hilo. She teaches courses in comics and graphic novels, gender and women's studies, film, literature, myth and folklore, and rhetoric.
Her research focuses on the intersectionality of places, people and stories past and present, including the effects of climate change, war and trauma on the human experience. Some of her conference presentations and research articles are co-written with English majors at UH Hilo.
She is co-editor of Narratives of Place in Literature and Film (Routledge 2019). Her research articles and book reviews have appeared in the International Journal of Comic Art, Journal of American Culture, Journal of Popular Culture, Supernatural Studies, Western American Literature and Folklore. She has contributed numerous book chapters on fairy tales, film, literature and comics and graphic novels.
Møllegaard serves on several editorial boards and is currently secretary-treasurer on the board of directors of the Hawaiʻi Council for the Humanities as well as faculty advisor for UH Hilo's Hohonu–Journal of Academic Writing and English Club.
Alison Nugent
Alison Nugent is an associate professor in the Department of Atmospheric Sciences in the School of Ocean and Earth Science and Technology at UH Mānoa. She teaches a writing-intensive ATMO 305 course in which three elements align—experimental design, computer coding and writing.
Students speak of gaining "a sense of community and collaborative learning, instead of competition." Through that spirit, she treats students as her equals, which allows her genuine excitement and interest in atmospheric science to shine through.
Nugent uses collaborative coursework as preliminary results for grant proposals, with attribution of all appropriate credit to students for their contributions, an advantage in navigating future professional paths. Another connection to student scholarship is demonstrated through Nugent's creation of an Open Educational Resource textbook for the ATMO 200 course, a free text to students and the public with the draft written by students under her guidance.
An undergraduate student rates her course as one of: "the most influential classes I have ever taken in my 4.5 years of study."
David Panisnick
David Panisnick is a professor of religion with a decades-long, distinguished career at Honolulu Community College. "Outstanding scholar," "passionate and provocative," and "master of the Socratic method" are just a few of the descriptors used by students and colleagues when describing this gifted and devoted educator.
Panisnick's influence extends beyond the classroom, empowering the thousands of students he has instructed to awaken as critical thinkers and discover their authentic interests and true potential. As one student best summarized, "he inspires us to think creatively and with humanity and to never give up on ourselves."
In addition to providing engaging lectures, Panisnick is a local expert on religious issues and has served on several boards and committees. He studied religion at the Pacific School of Religion and University of California, Berkeley prior to earning his PhD in philosophy from the University of Hawaiʻi at Mānoa. His current area of specialized interest and research is in the biological and evolutionary origins of religious beliefs and practices.
Stanley
Kīʻope

Raymond
Stanley Kīʻope Raymond is a professor of Hawaiian Studies at the University of Hawaiʻi Maui College. A great and beloved Hawaiian educator, Raymond inspires and motivates his students and enhances their learning experiences while fueling their desire to excel.
He is renowned as an eloquent and dedicated Hawaiian language educator and haku mele (composer). Raymond started teaching at UH Maui College in 1979. He helped establish the Hawaiian Studies Department and co-founded Lauʻulu, a campus coalition of programs serving Native Hawaiian students.
Raymond is a founding member of Kilakila ʻO Haleakalā and a member of the Board of Directors of ʻAha Pūnana Leo. He was instrumental in establishing both the Pūnana Leo o Maui and Kula Kaiapuni o Maui Hawaiian language schools on Maui.
He has served as a public speaker for countless community groups and advocated for the support and value of Hawaiian newspapers. Well-known and respected for his knowledge of the Hawaiian language and culture, Raymond has also served as a judge in Hawaiian-related events and competitions.
Kathleen Sands
Kathleen Sands a professor of American Studies in the College of Arts and Humanities at UH Mānoa. She is described by a colleague as uniquely gifted in teaching and mentoring students with "her razor-sharp intellect, deep ethical engagements and exceptional generosity of spirit." She teaches theology and its intersections with law, ethics and gender in America.
Students experience religion as amenable to scholarly study as other dimensions of culture and that to learn about religions in an academic context requires complex, multi-layer thinking. Through this, students feel enriched and become empowered. Every assignment by Sands is an exercise in "perspective-taking," or as one undergraduate student describes it, like "playing a solitary game of Devil's advocate."
A colleague observes that Sands teaching: "furthers the potential for respectful public dialogue and a meaningful public life." It is not unusual for students to feel like "I did not want this class to end…everyone was completely into the subject and discussions [were] like I have never experienced."
John Signor
John Signor is an assistant professor of music at Leeward Community College. His music classes effectively foster creativity, self-confidence and shared problem solving. Signor cultivates a community of learners who strive for resourcefulness and cooperation.
"The instructor was amazing…This is by far the best college course I have ever taken."
These words are typical of the outstanding student evaluations given. Caring and commitment to the collaborative process are essential elements of Signor's teaching.
His peers cite Signor's demonstrated impact on his students, as a mentor, caretaker, lover of the arts and wicked musician. He has led student performances in Amsterdam and Paris. For Signor, teaching is an opportunity to inspire, nurture and help his students see and achieve their potentials.
Signor's teaching philosophy is rooted in student engagement and creative collaboration, maintaining a flexible approach and a focus on global perspectives. He generates a wide variety of performance opportunities for his students, and provides his own talents. His contributions are always selflessly given from the culturally significant Liliʻu Project, celebrating the compositions of Queen Liliʻuokalani, to scoring local films and theatrical productions.
Grieg Steward
Grieg Steward is a professor in the Department of Oceanography in the UH Mānoa School of Ocean and Earth Science and Technology. He considers it a joy and privilege to be able to make a living as a perpetual student. His undergraduate course, Science of the Sea, requires access to local and global communities and engages with interests outside of the sciences.
Aware of inspiration that marine life provides to artists, architects and musicians, Steward imbues his teaching with "unexpected confluences among viruses, the perception of beauty and the growth and collapse of an economic bubble."
A graduate student writes, "He brings an undeniably high affect and thus sets the tone for his lectures." His pedagogical approach towards the presentation of material is a form of theatre that incorporates audio, static and moving images, interactive graphs, live demonstrations and his moving through the lecture hall bridging distances between himself and students. An undergraduate student writes, "When I look back on my college years and my professors, I will remember him."
Kamuela Yong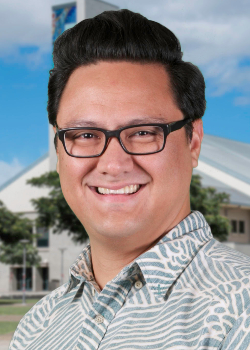 Kamuela Yong is an associate professor in the Mathematics, Natural and Health Sciences Division at the University of Hawaiʻi–West Oʻahu. He joined the university in 2015 after becoming the first Native Hawaiian to earn a PhD in applied mathematics.
Yong humbly acknowledges that "teaching is a learning experience" and strives to improve by constantly learning from his students. A student commented, "Dr. Yong is an amazing teacher…he cares about his students…is very approachable…and always checked up on everyone during class."
He has provided tutoring to all students during his lunch break and, to date, he has created 229 online math videos representing more than 48 hours of instructional content. In July 2019, Yong was selected to co-lead an almost $2.5-million National Science Foundation, Tribal Colleges and Universities Program grant to support native-serving institutions, in order to advance STEM programs and research capacities.
Yong's research interests include mathematical modeling of biological, ecological and epidemiology systems using diffusion. Ultimately, his principal goal is to "break down the barrier that many students have in mathematics."