In a time when many high school seniors are navigating uncertainty, one thing ʻAiea High School senior and valedictorian Kylie Charice Alarcon knows for sure is that she is committed to pursuing her higher education at the University of Hawaiʻi at Mānoa this fall.
In a social distance drive thru event capping off her unpredictable senior year, Alarcon not only picked up her diploma on May 21, but also received a giant check for a year of free tuition at UH Mānoa courtesy of UH Federal Credit Union (UHFCU). Alarcon, donned in her white and green cap and gown, was shocked to learn she was named the winner of a UH Mānoa social media contest she entered hosted by Hawaii News Now.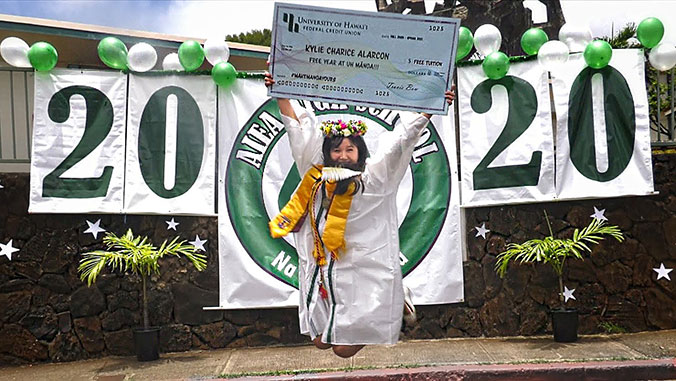 UHFCU Vice President-Member Experience Stacey Robinol presented Alarcon with the large check along with UH Mānoa Provost Michael Bruno.
"I am very surprised! I was telling my parents when we came in 'This is so embarrassing because we are here so early!' So it's a nice surprise," remarked Alarcon. "It's always been my dream to go to UH Mānoa because of course I'm going to be at home, but also because everybody shares aloha there. I've been to Mānoa so many times and I enjoy just being on campus."
"We are thrilled to have an outstanding student like Kylie join us. I know she's very excited and her family is very excited," said Bruno. "Particularly at this time, to have more of our students stay at home, come to UH Mānoa, one of the world's greatest research universities and learn with us, is just really inspiring."
"We are honored to support Kylie, who is already an exceptional student and community member, as she moves on to the next level in her education, particularly during this challenging time," said Robinol. "We received a number of outstanding submissions, which were inspiring to all of us. As a credit union founded to serve the education community, we wish Kylie the best of luck in her college career and look forward to her further blossoming into one of Hawaiʻi's next generation of leaders."
The online contest, which was open to incoming fall 2020 freshmen, asked entrants to upload a photo or video that reflected how they made the University of Hawaiʻi at Mānoa "yours."
A new chapter
It's always been my dream to go to UH Mānoa because of course I'm going to be at home, but also because everybody shares aloha there.
—Alarcon
Alarcon's video entry focused on how her goals and vision for her future coincides with UH's motto, "Above all nations is humanity." Her enthusiasm to embark on a new chapter at UH Mānoa is fueled by her motivation to continue on her journey of self-discovery and greater purpose knowing that her talent, passion and community service will be embraced and cultivated at UH Mānoa.
"Right now with this pandemic going on, it's unfortunate I didn't get to experience my last few months in high school, but I'm really looking forward to college and making new friends, becoming more independent and majoring in psychology," said Alarcon.
Alarcon received a lot of interest from mainland schools but was only interested in attending UH Mānoa, her father said.
So Kylie will be able to keep her green and white colors of ʻAiea for the green and white of UH Mānoa where she will pursue a degree in psychology.