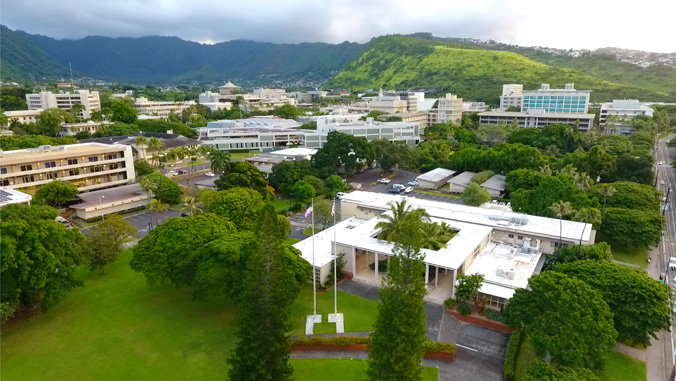 Hawaiʻi

recognized for low student debt thanks to UH System

The State of Hawaiʻi ranked No. 2 in the nation for lowest student debt, thanks to the affordability of the University of Hawaiʻi 10 campus system and programs that keep costs down, such as the Hawaiʻi Promise Scholarship. That's according to the rankings by data analysis company Stacker that are based on 2020 WalletHub data on student loan indebtedness and grant and student work options.

Hawaiʻi comes in second behind Utah. The state with the highest student debt is South Dakota followed by Pennsylvania and West Virginia.
UH Mānoa financial aid recognition
UH Mānoa was nationally recognized as one of the best colleges for financial aid in 2020 by LendEDU. UH Mānoa placed No. 133 out of 312 eligible four-year universities and colleges that submitted their 2018–19 financial aid data. There are a total of 2,700 four-year universities and colleges in the U.S.
LendEDU ranked eligible institutions based on three areas: need-based financial aid, non-need-based financial aid and financial aid for international students.
Need-based financial aid is the likelihood of students with financial need receiving need-based scholarships and grants and the percentage of need met for students with financial need who received need-based aid. Non-need-based financial aid is measured by the average amount of non-need-based scholarships and grants given to each student normalized by the cost of attendance. Financial aid for international students is the average amount of financial aid given to each international student normalized by the cost of attendance.
LendEDU is a private company, which provides information on private student loans and loan refinancing.
More about Financial Aid Services
UH Mānoa Financial Aid Services launched a new tool in February 2020, which helps to verify student information, preventing delays in receiving financial aid through the Free Application for Federal Student Aid (FAFSA). ProVerifier offers 24-hour support and collects tax data directly from the Internal Revenue Service with 100% accuracy. In 2018–19, UH Mānoa Financial Aid Services received more than 27,940 FAFSA applications and disbursed $161,273,169 in aid.
The 2021–22 FAFSA application opened on October 1 and the priority deadline is February 1, 2021.
For more information, visit the UH Mānoa Financial Aid Services website.