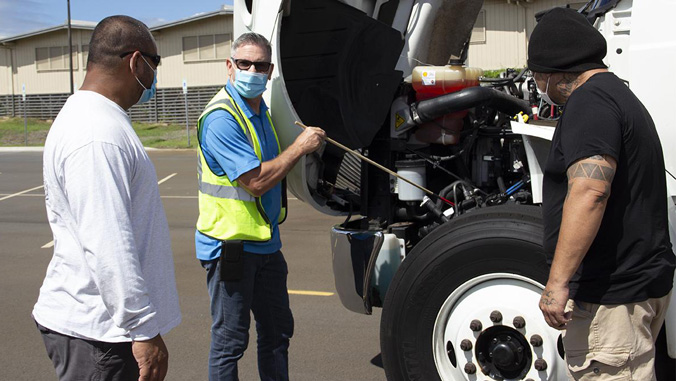 "Short-term training for a lasting career" is what Leeward Community College's Commercial Motor Vehicle (CMV) series provides students, according to instructor Mike Scully.
This program, offered through Leeward CC's Office of Continuing Education and Workforce Development (OCEWD), prepares participants for their commercial driver's license (CDL) in just seven weeks.
Scully is a prime example of how this program can quickly help an individual launch a new career as a truck driver. Formerly a culinary faculty who was reassigned to OCEWD, he decided to take the class (with no previous truck driving experience) with the hopes of becoming an instructor.
"I envisioned this as an opportunity to contribute to our program and help those in the community," he said.
Setting an example
While working full-time as a coordinator, Scully was eventually able to obtain his Class A CDL license, including all of the CDL endorsements (a total of 11 tests), and land a job driving tractor-trailers for Y. Hata & Co., Ltd. This job gives him road experience that adds value to his classes.
As an educator, and motorcycle safety instructor for eight years, Scully's skill as a teacher is proven as all 13 of the students from his last three classes have obtained their CDL licenses and six more will be taking their tests in a few weeks. Many of these students were displaced workers who took advantage of funding from the O'ahu Back to Work initiative, or the American Job Center on Oʻahu, which covered the cost of tuition.
For Kahalepuna "Puna" Tani, this class came at just the right time.
"It was one of the only (CDL) classes running at the time. They were quick to respond and were willing to take me," Tani said. "With funding through the American Job Center, I was able to take this class. My experience was awesome. Mike did an awesome job of training us. To me, anyone could pass the class if they put in the time and effort."
It didn't take long for Tani to find work, landing a full-time position at J&M Cesspool and Septic Pumping, LLC as a truck driver.
Industry partnerships
With so many applicants from Leeward CC trying for a CDL license, the State CDL Licensing Office took notice. Lead examiner Monica Irlas now visits the Leeward CC campus to speak to Scully's classes, offering them an educational interaction instead of just meeting them in a testing situation.
Being in the industry has also allowed Scully to develop partnerships with employers. He is currently training technicians and marketing staff from International Trucks of Hawaii to obtain their CDL license, and he is working on expanding into Class B CDL training this summer with several businesses. Having these partnerships also allows him to connect his students with possible future employers.
"CDL drivers are working every day and keeping the island going during this pandemic," Scully said. "Many displaced workers are realizing that they will always have a job if they can obtain their CDL."
For more information visit the Commercial Motor Vehicle (CMV) program website, or contact Mike Scully at mscully@hawaii.edu.