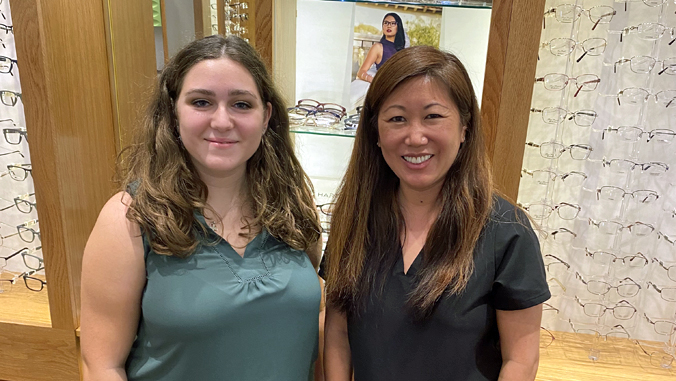 During the summer of 2020, before her junior year at Henry J. Kaiser High School, Emily Westphal started her dual-credit studies at Kapiʻolani Community College. Earning college credits while in high school is already an accomplishment, but Westphal was about to take it to another level.
Westphal learned about Kapiʻolani CC's Optometry Assistant Apprenticeship Program that spring and was immediately drawn to it. The 16-year-old approached Sally Pestana, Kapiʻolani CC's optometry assistant program coordinator, hoping to register for the program. Unfortunately, Westphal did not meet one requirement: she needed to be 17 to qualify.
Pestana appealed to the program funder, the Hawaiʻi Department of Land and Industrial Relations (DLIR), advocating for Westphal to be a test case for youth apprenticeship. DLIR granted the exemption, allowing her to register in the Optometry Assistant Apprenticeship Program as a "pre-apprentice."
"As a high schooler, I was looking for a job but I didn't want to work in retail or food, and this program provided me with an amazing job through the apprenticeship as well as a challenge to learn about an industry I didn't know much about," Wesphal said. "After hearing about this program, I knew I had to do it and I am so glad that with the help of Sally and one of my school counselors, Ms. Shareen Murayama, that I was able to achieve this goal."
Professional experience
The Optometry Assistant Apprenticeship Program is a one-year program that includes a 145-hour classroom course to prepare students for the national Certified Paraoptometric examination offered through the American Optometric Association. It is the only training program in Hawaiʻi, serving students across the state. Students learn to assist optometrists in a professional setting by receiving technical classroom instruction and practicing patient service.
Westphal started the campus portion of the program in June 2020. Eager to fulfill the on-the-job learning part of the program, she took the initiative to seek employment with the program's optometrist employer partners and was offered a position by Kari Chang-Moses at Windward Vision Center.
"The fact that she was not necessarily eligible for the Kapiʻolani CC optometry assistant program, but she still managed to be a part of the program was impressive," Chang-Moses said. "The fact that she was willing to participate in the program, along with keeping up as a fulltime [high school] student, let us know that she had a great work ethic."
Rapid Health Education Program
The Optometry Assistant Apprenticeship Program is part of the Rapid Health Education Program (RHEP) at Kapiʻolani CC. RHEP offers a variety of short-term healthcare courses tailored to potential students who may want to upskill or change careers.
Marcus Fikse, apprenticeship employment counselor for RHEP said, "In my experience working with many students throughout our Rapid Health Education Programs, I have seen all levels of dedication and commitment. For someone Emily's age to have completed the program with such success and followed up with gainful employment, it really speaks volumes for her. I truly believe that Emily has what it takes to do very well and I look forward to following her successes along the way."
Westphal turned 17 in March and can now register as an official apprentice. She said, "I am so happy doing what I do and I learn new things every single day. I never thought as a 17 year old I would know how to file insurance! It is such a great environment to work in and I am so glad with how everything worked out."
Murayama, her high school counselor, added, "These advanced health programs and certification opportunities allow students to start to give back to their communities. And that's a win-win for everyone."
—By Louise Yamamoto