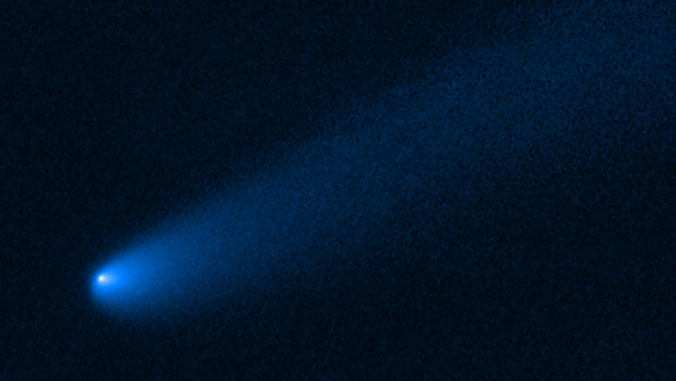 Two Maui middle-schoolers mesmerized by an unusual comet orbit-hopping near Jupiter captured top honors at the 2021 Hawaiʻi State Science and Engineering Fair. Maui Waena Intermediate students Wilson Chau and Holden Suzuki raked in four coveted awards for their quest to determine what caused icy LD2's cometary outburst. The eighth-graders' research was guided by the University of Hawaiʻi Institute for Astronomy (IfA) HI STAR (Hawaiʻi Student/Teacher Astronomy Research) program.
In 2019, UH IfA outreach astronomer J.D. Armstrong and his student Sidney Moss helped confirm the LD2's cometary nature using Las Cumbres Observatory (LCO) on Haleakalā.
"Astronomy offers an extensive amount of STEM, cooperation and leadership in its field," said Chau. "The challenges to solve and explore really gets you to move forward. The endless amount of life that can be discovered other than where we stand, can be seen through astronomy."
The young astronomers won first place overall for the state's Junior Division, the Hawaiian Astronomical Society award, the Broadcom award, and second place for Best In Category for Physics and Astronomy (Junior Division). In 2020, the pair's observations of the famous SpaceX Tesla launch earned them top awards at science and engineering fairs at both the county and state level. The Maui teens credit Armstrong for mentoring them on multiple research projects.
"Holden and Wilson have put in a lot of good, hard work on this," said Armstrong. "It has been challenging working through Zoom, and I've missed meeting with them in person. I know that they had many side meetings to do the quality work that they have. What matters most to me is that they do good science, but I have to admit that I was thrilled that they received the awards at the science fairs. It is a tremendous honor."
Like the rest of the planet, normalcy went out the window due to the COVID-19 pandemic which posed challenges while conducting research. Data from the LCO was used but compiling the information was tough at times.
"Usually, we all would've met together to work on the project and to socialize," Suzuki said. "Instead this year everything came virtually, but we all still managed the time to meet up on Zoom to do our research with provided observations and software."
On top of state and county accolades, Suzuki and Chau also made national headlines in August 2020 after they helped scientists determine a 1,070-pound space satellite would break up over the South Pacific. The discovery propelled the Valley Isle teens into the spotlight across local and national media outlets, including TV news broadcast, Good Morning America.
More HI STAR students awarded
Edward Divin (HI STAR 2019–20) won second place for the Senior Division of Physics Astronomy.
Anica Ancheta (HI STAR 2019–20) captured third place for the Senior Division of Physics and Astronomy.
This program is an example of UH Mānoa's goals of Enhancing Student Success (PDF) and Excellence in Research: Advancing the Research and Creative Work Enterprise (PDF), two of four goals identified in the 2015–25 Strategic Plan (PDF), updated in December 2020.