The University of Hawaiʻi at Mānoa Department of Theatre and Dance is reveling after a student theatrical production scooped up 11 national awards from the Kennedy Center American College Theater Festival (KCACTF). Due to the COVID-19 pandemic, the national theatre program reviewed plays through submitted recordings, but upheld its recognition of productions in higher education that promote long-term societal impacts through an artistic lens.
UH Mānoa production, I'm Lot Lane (a solo effort) interrogates the power dynamics in race, gender relations, and theatre while addressing the overthrow of the Hawaiian monarchy and examining its aftermath in modern Hawaiʻi. UH Mānoa theatre students created, directed, designed and performed in the production. Graduate student Kealiʻikeola Simpson wrote and starred in the play alongside graduate students Christine Jamlig Chang, Catherine Ann Restivo, and an ensemble of 10 contributors. Simpson was inspired by real-life Hawaiʻi historical figure Lot Lane, who was one of the last royalist insurgents to be captured by government forces after the overthrow.
Pushing the artistic envelope
"The man himself paved the way for this conversation to happen, even 100+ years after his own efforts," Simpson said. "He deserves all of our attention…I stumbled onto Lane a few years ago while researching another story. I found his name in a book of letters written to and from Princess Kaʻiulani. A friend (or family member) of the princess wrote about this man and his fight against the provisional government. This person wrote to the princess about how he walked himself into their prison, announcing, 'I'm Lot Lane.' Once I saw that letter, I knew I had to learn more about him."
The production also sheds light on occupation and appropriation of Hawaiian lands, including Kennedy Theatre, by UH.
"I hope that I'm Lot Lane will encourage other current as well as prospective theatre and dance students to engage with the pressing issues of our time and to push the artistic envelope by developing and pursuing their own aesthetic visions within the context of our department—even if that won't always be uncomplicated because of our own institutional challenges," said Markus Wessendorf, chair of the UH Mānoa Department of Theatre and Dance.
Honor for Windward CC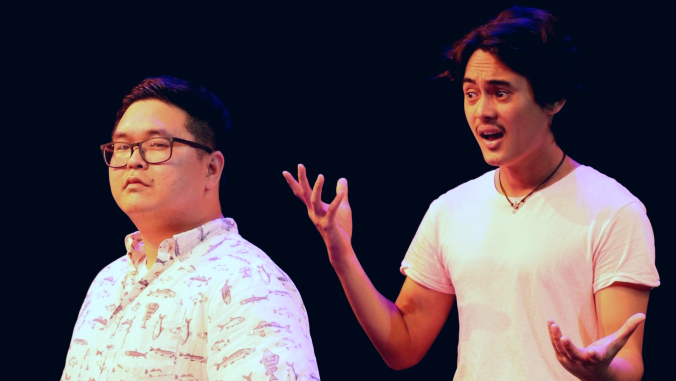 The award-winning play was one of 28 productions across the nation that were selected to participate in the 2021 KCACTF. But it wasn't the only program from UH that was awarded—Windward Community College's Oriental Faddah and Son received recognition, as well. The ensemble production delves into what it means to be Okinawan in Hawaiʻi and reflects on paternal relationships.
In January 2021, both plays received invitations to virtually perform at the KCACTF Region 8 normally held on the West Coast. The region encompasses college and university theatre productions from Arizona, Central and Southern California, Guam, Hawaiʻi, Southern Nevada and Utah.
Awards
I'm Lot Lane (UH Mānoa)
Kennedy Center Citizen Artist Award
The David Mark Cohen Playwriting Award
Special Achievement: Unique Theatrical Event
Special Achievement in Overall Production Design
Special Achievement in Lighting Design (Rachel Sorensen)
Special Achievement in Costume Design (Jesse Höyhtyä)
Special Achievement in Stage Management (Ethan Castillo)
Special Achievement in Performance (Keola Simpson)
Special Achievement in Ensemble Collaboration – Performance and Production
Special Achievement: Overall Production
Special Achievement in Directing (Christine Jamlig Chang and Catherine Ann Restivo)
Oriental Faddah and Son (Windward CC)
Kennedy Center Citizen Artist Award
Special Achievement in Dramaturgy (Jeremy Keuma)
This work is an example of UH Mānoa's goal of Becoming a Native Hawaiian Place of Learning (PDF) and Enhancing Student Success (PDF), two of four goals identified in the 2015–25 Strategic Plan (PDF), updated in December 2020.