The First Hawaiian Bank Foundation, in partnership with Walter A. Dods Jr., First Hawaiian Bank's former chairman, president and CEO, have made a combined contribution of $500,000 to the University of Hawaiʻi Foundation. This substantial gift supports the UH Mānoa RISE project, a world-class innovation and entrepreneurship center coupled with student housing being built on the site of the former Atherton YMCA, across from the flagship campus.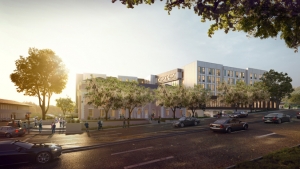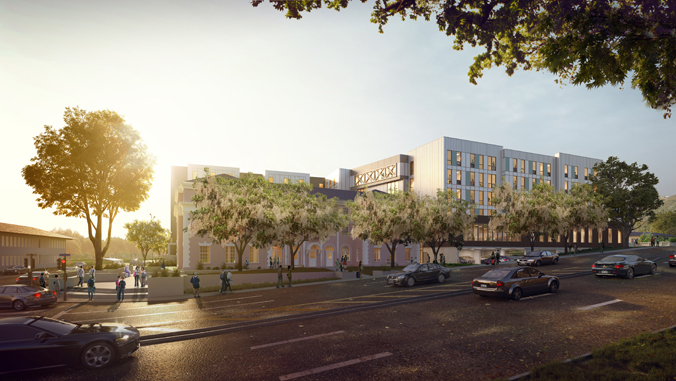 The live-learn-work community at RISE—Residences for Innovative Student Entrepreneurs—will be operated by the Pacific Asian Center for Entrepreneurship (PACE) at the UH Mānoa Shidler College of Business. The new RISE building, which replaces the former Atherton YMCA, will wrap behind and connect to the historic pink Charles Atherton House. Groundbreaking for RISE is scheduled for January 13. A classroom in the new RISE building will be named in honor of Walter Dods, commemorating this important gift and the long-standing support from both Walter Dods and First Hawaiian Bank (FHB) over the past several decades.
"Education is the cornerstone of a thriving, progressive society and the innovative learning opportunities for students participating in the RISE program is unmatched in Hawaiʻi," said First Hawaiian Bank Chairman, President and CEO Bob Harrison. "First Hawaiian is proud to partner with Walter in supporting the RISE entrepreneurial center in developing the next generation of talented global business leaders."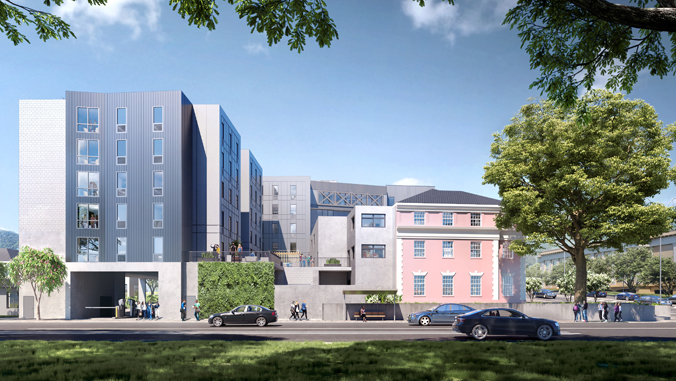 "As a proud graduate and lifetime supporter of the University of Hawaiʻi, I am honored and pleased to be part of this special project," said Dods. "I want to thank Bob Harrison and the bank for matching my gift and for supporting the RISE project. I firmly believe that education is the great equalizer for many in our community. We desperately need critical thinkers and entrepreneurs in a state so reliant on small and medium sized businesses and I believe RISE will be a breakthrough investment in our future."
When completed in 2023, RISE will have 7,263 square feet of multi-purpose co-working, meeting, lab and classroom space, as well as 374 dormitory beds for undergraduate and graduate students. RISE will attract qualified students of all backgrounds and majors across the UH System who can come together to explore their passions, test ideas, access support services and launch businesses within an ecosystem that fosters collaboration and entrepreneurship under the direction of PACE.
Through PACE's expanded portfolio of interactive programming, students will learn tangible and intangible skills essential to success in any career choice be it the corporate track or a start-up—the ability to problem solve, flex their creative muscle, collaborate with people from diverse backgrounds, process information critically and communicate effectively.
"Under Walter Dods Jr.'s and now with Bob Harrison's leadership, First Hawaiian Bank pioneered and continues to be a trailblazer in providing clients with innovative solutions and embracing technological advances," said Susan Yamada, vice chair of the PACE Board of Directors. "This gift to RISE supports our shared vision of nurturing entrepreneurial thinking and innovative problem solving within our students who will be the next generation of leaders. We are grateful for this generous donation and proud to partner with Mr. Dods and the First Hawaiian Bank as we prepare our youth for future success."
FHB's legacy of support for UH
First Hawaiian Bank Foundation's gift to the UH RISE project highlights a storied history and commitment of supporting the UH System. Central to the core mission and vision of First Hawaiian and the foundation, the bank values the opportunities that the UH System provides the community, teaching the skills of innovation and entrepreneurship through organic and creative means to engage students to become our future leaders.
First Hawaiian Bank and the First Hawaiian Bank Foundation have provided support for UH across several areas including: UH Foundation, UH Alumni Association, UH Athletics, Shidler College of Business and Shidler Alumni Association.
With First Hawaiian Bank Foundation and Walter A. Dods, Jr. partnering to support innovation and entrepreneurship in Hawaiʻi, UH will be able to offer local students an educational opportunity here in Hawaiʻi found in very few global universities, and will serve as a beacon to attract entrepreneurial students and innovators from around the world. This will fortify and grow areas of excellence at UH such as astronomy, ocean science, engineering, tropical agriculture, law, medicine, business and others with the potential to provide licensing and equity return cash flows to the university.
This work is an example of UH Mānoa's goal of Enhancing Student Success (PDF), one of four goals identified in the 2015–25 Strategic Plan (PDF), updated in December 2020.