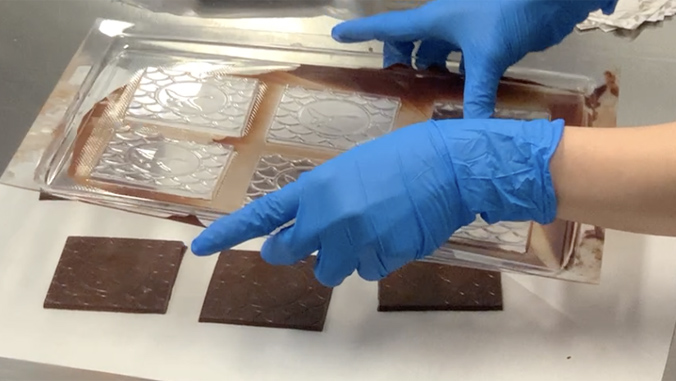 When you see a box of chocolates on Mother's Day, you might not realize how much engineering goes into each individual truffle. Students in the University of Hawaiʻi at Mānoa's Department of Mechanical Engineering learned first-hand as part of the new course in Advanced Additive Manufacturing.
I'm hoping that I can use the skills that we learn at UH to benefit more business.
—Kendall Lorenzo
Under the guidance of Assistant Professor Tyler Ray, approximately 10 upper-level mechanical engineering students spent the spring 2022 semester developing a system based upon 3D printing to produce custom chocolate molds for the chocolate shop Choco leʻa, located in Mānoa valley just one mile away from campus.
According to senior mechanical engineering major Kendall Lorenzo, custom chocolate molds ordered commercially cost thousands of dollars, making them out of reach for many small businesses. Ray and the students provided the customized molds to Choco leʻa free of charge to help the locally-owned business save on costs, while gaining real-world experience.
"Honestly, it feels really good; it feels amazing," Lorenzo said. "Never would I have thought that I would be using my skills to benefit the community. But that's the heartwarming part of this entire project. I'm hoping that I can use the skills that we learn at UH to benefit more business, more companies, and help them solve the problems that they have."
A chocolate challenge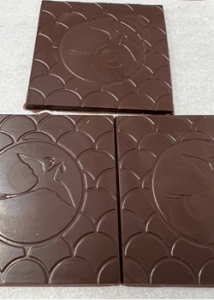 Ray connected with Choco leʻa owner Erin Kanno Uehara, a UH Mānoa alumna, who earned her bachelor of education in 2006 and master of business administration in 2013. In fact, a majority of Choco leʻa's team are graduates from the UH System, including from UH Mānoa and Kapiʻolani Community College's culinary arts program. Uehara presented Ray with the challenge that her business has of finding chocolate molds at a low cost and Ray thought it was a challenge his students could tackle.
The students created the designs in consultation with Choco leʻa, then used food safe materials, a high-tech 3D printer in Ray's lab, and fabrication equipment in the UH Mānoa Department of Mechanical Engineering's new student ProtoLab to create the molds. The students also toured the chocolate shop in late April 2022, discovering first-hand how their molds were being put to use.
"The collaboration with Choco leʻa is an opportunity to both bridge classroom concepts with real-world design challenges and simultaneously give back to the community," Ray said. "In addition, students are taught how to approach engineering in a consulting setting and gain hands-on experience in product development."
"At Choco leʻa, we use chocolates as a way to connect with others and it was an honor to be able to do it right here in our own community," Kanno Uehara said. "A conversation with a chocolate friend led to an opportunity where together we could really 'Bring peace to our world, one chocolate at a time.' On behalf of my entire team, we are so grateful to have shared this collaborative experience to grow together. I hope more businesses and schools will partner up because we can all learn a lot from each other! Mahalo Professor Ray and the mechanical engineering students for your exceptional contribution!"
This work is an example of UH Mānoa's goals of Excellence in Research: Advancing the Research and Creative Work Enterprise (PDF) and Enhancing Student Success (PDF), two of four goals identified in the 2015–25 Strategic Plan (PDF), updated in December 2020.
—By Marc Arakaki