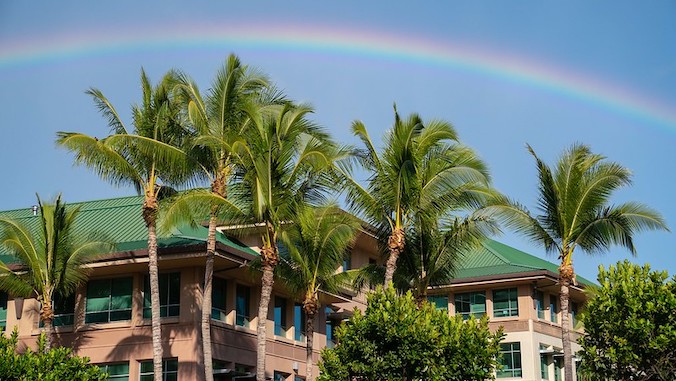 The National Science Foundation (NSF) has awarded $10 million to a consortium of institutions, including the University of Hawaiʻi at Mānoa John A. Burns School of Medicine (JABSOM), to focus on building capacity and workforce for data analytics across Hawaiʻi and the U.S.-affiliated Pacific region. The consortium is led by Chaminade University, and includes the East-West Center and Texas Advanced Computing Center.
The award, "Alliance Supporting Pacific Impact through Computational Excellence (ALL–SPICE/)," is made possible through NSF's INCLUDES (Inclusion Across the Nation of Communities of Learners of Underrepresented Discoverers in Engineering and Science) program as part of a $39-million effort to address diversity, inclusion and participation challenges in STEM at a national scale.
"This award will critically support further development of data science in Hawaiʻi and the Pacific, empowering stakeholders, developing a workforce that knows the utility and power of using data, and subsequently improving data informed decision-making abilities across multiple industries, domains and disciplines," said co-principal investigator Alex Stokes, JABSOM assistant professor in cell and molecular biology and member of the Hawaiʻi Data Science Institute.
Stokes was also recently awarded a $1.5-million NSF S-STEM program grant that will provide training and tuition scholarships to talented low income undergraduate and graduate students with a focus on biological application of data science.
"Data science education provides opportunities for students to qualify for a wide range of great jobs that are in high demand everywhere in multiple public and private sector organizations," said UH President David Lassner. "ALL–SPICE will enable us to serve students and communities throughout Hawaiʻi as we also extend our commitments into the Pacific in a critical area of need."
The consortium partners are Chaminade University's new United Nations CIFAL Center (PI Helen Turner); the Texas Advanced Computing Center; the UH-Data Science Institute and JABSOM (co-PI Alex Stokes); and the East-West Center (co-PI Mary Perez-Hattori).
The program will also work closely with UH Hilo's "Islands of Opportunity" NSF Alliance which engages colleges and universities across the U.S.-affiliated Pacific Islands.
ALL–SPICE co-PI Kelly Gaither, director of health analytics at Texas Advanced Computing Center and a professor in maternal health at the Dell Medical School at UT Austin, said, "Data science is a non-negotiable 21st century skill set both for individuals and whole communities. Data can be both a source and a solution for injustice and inequity. I am delighted that every partner in this Alliance shares the values of building data analytics capacity to empower Hawaiʻi-Pacific communities to address their own challenges such as poverty, ecosystem decline and health disparities, and to do so in a way that is inclusive and ethical."
The ALL–SPICE Alliance will begin offering programming and opportunities on September 1, 2022.