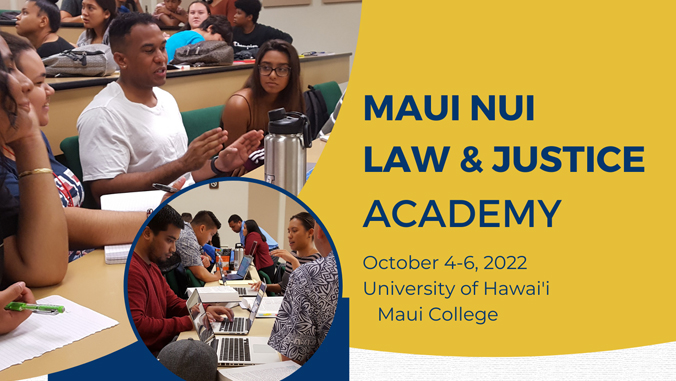 A new program to introduce high school students from Maui, Molokaʻi and Lānaʻi to issues of law and justice will be held on Maui, October 4–6. The Maui Nui Law & Justice Academy is a collaborative effort between the Hawaiʻi Commission to Promote and Advance Civic Education (PACE Commission), University of Hawaiʻi Maui College, UH Mānoa William S. Richardson School of Law, Hawaiʻi State Judiciary and Maui County Bar Association .
Twenty high school students from across Maui, Molokaʻi and Lānaʻi will be selected for this opportunity. The students will gain invaluable insight into law-related careers and will have the mentorship of judges, attorneys, academics and community members.
The PACE Commission along with other community partners are providing the academy free of charge to accepted participants.
High school students will build their skills in discussion, research, debate, analysis and advocacy; and will be provided with the tools and inspiration to become active and involved citizens of their communities.
A curriculum has been created that is unique to the Maui community with leaders from across Hawaiʻi who will be working with and mentoring participants enrolled in the academy.
"One of the primary goals of the academy is to increase interest in college, law school and legal-related careers among young people who come from backgrounds and populations that are traditionally underrepresented among attorneys, judges and political decision-makers," said Troy Andrade, associate professor at the UH law school.
During the academy, participants will engage in a variety of law-related educational activities including:
Preparing for and taking part in a mock trial involving a Maui-specific issue
Organizing arguments for clarity and rhetorical effectiveness
Discussing how context, history and civic responsibility inform legal decision-making
Learning about college and law school
Attending classes taught by lawyers and judges
Visiting the judiciary and meeting judges and court staff
Meeting Maui attorneys and staff
Visiting the

Waiheʻe

Coastal Dunes & Wetlands Refuge
For more information, contact Andrade at tandrade@hawaii.edu.