Support for groundbreaking studies on torrential rainfall, lightning and severe thunderstorms in Hawaiʻi and Colorado is the focus of a long-term partnership between the University of Hawaiʻi at Mānoa School of Ocean and Earth Science and Technology (SOEST) and philanthropist Jonathan Merage.
Merage, who has a passion for severe weather phenomena, is expanding his support to fund two new studies that aim to help meteorologists better understand the structures and processes of destructive supercell thunderstorms and the role that terrain can play in the generation of mesocyclones, a precursor to most deadly tornadoes. A mesocyclone is a persistent, rotating updraft that characterizes supercell thunderstorms.
Six years ago, Merage began a partnership with SOEST to fund research into how long-range lightning data can potentially improve storm forecasting. Merage has given more than $600,000 to SOEST since then and his latest gifts will boost the total to more than $800,000.
"I have always been fascinated by supercell thunderstorms and tornadoes, and it's been a privilege to be able to work together with SOEST scientists and students in conducting research in the field and furthering our mutual interests," said Merage.
Mountainous terrain, supercell thunderstorms
Steven Businger, professor in the Department of Atmospheric Sciences at UH Mānoa and the projects' lead, and his associates conducted field experiments in Colorado, where Merage has a ranch south of Denver. Their latest investigation, "The anatomy of a series of cloud bursts that eclipsed the U.S. rainfall record," was published in Monthly Weather Review in April 2022. It detailed the essential role of steep mountainous terrain in producing a series of supercell thunderstorms that stalled out over Kauaʻi in April 2018.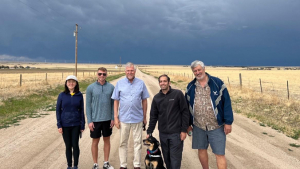 "Step by step, we gradually build up our understanding of the interaction of thunderstorms and mountains, so that eventually, we have a full-physics weather model that is better able to predict evolving supercell thunderstorms," Businger said. "That's a pretty far-reaching goal. It could save lives."
The work helps meteorologists better predict dangerous storms. It also helped graduate student TJ Corrigan fulfill his PhD requirements and opened educational opportunities for school-age children to learn about thunderstorms and lightning. The manuscript is the result of a grant from the Merage Foundation to study the relationship of mesocyclones and terrain.
"Kauaʻi's terrain turns strong, shifting horizontal winds (wind shear) into the vertical direction—triggering thunderstorms with rotating updrafts or mesocyclones in the process," said Corrigan.
The mesocyclones increased the intensity of precipitation over Hanalei, thus breaking the all-time 24-hour rainfall record for the U.S. Significantly, mesocyclones are a signature of supercell thunderstorms and are often precursors of deadly tornadoes.
The other new grant Merage funded takes a novel approach to studying supercells by analyzing the isotopic composition of rainwater. By measuring the changing chemistry in supercells, scientists hope to trace the history and intrinsic properties of air currents as they traverse through different areas of the storm. Data collected by the team in May 2022 will be used to investigate how wind shear evolves and eventually leads to tornadogenesis.
For more information, see UH Foundation's website.