A new program is training University of Hawaiʻi students to enter the critical, growing information technology (IT) sector by providing practical experience with the help of local companies. Computer and technology occupations are promising career fields, with related employment projected to increase 13% nationally between 2020–30. In Hawaiʻi, employment in the computer and mathematics occupation group is forecast to increase 7% from 2018–28.
After piloting the initiative for 6 months, UH announced the IT/Cyber Leap-Start Experience Excelerator Program, which provides significant real-world professional experience for IT and cybersecurity students approaching graduation, and recent UH graduates who need practical work experience. Leap-Start's goal is to improve the workforce readiness of students and graduates to successfully compete for IT and cyber employment in Hawaiʻi while providing employers with much needed resources.
"Participants in Leap-Start will gain experience applying learned technical and other skills to 'real life' situations to address and solve problems faced by the organization they work in," said Alan Ito, UH IT workforce development and regulated policy lead. "In addition, participants will have an opportunity to work in teams, sharpen their verbal and written communication skills, and practice other professional skills highly sought by Hawaiʻi employers."
Ito said they hope to have at least 20 participants by the end of 2022.
Leap-Start highlights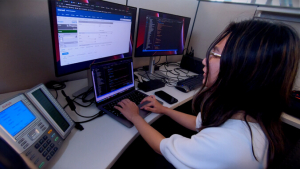 UH's Information Technology Services (ITS) provides the operational home, hiring participating students and post-graduation participants.
ITS provides initial hiring, onboarding, "bootcamp" training and ongoing mentorship for participants.
Participants will be paired with employers (which could include UH) for task assignments of 2–6+ months.
Employers will provide participants with temporary full-time or part-time job opportunities along with appropriate supervision.
Employers may choose to directly hire a participant or the participant may choose to leave the program at any time for employment.
Participants not hired will return to the participant pool for additional employer assignments after their task assignment is completed.
Program participation term is for a finite period. Participants not hired will be off-boarded at the end of the term.
Students can find out more by contacting Ito at asito@hawaii.edu.
Working with local employers
Local companies are already partnering to employ Leap-Start participants. These include: Intech Hawaii, eWorld Enterprise Solutions, Hawaii Pacific Health, American Savings Bank, HMSA and Hawaiian Airlines.
"We look forward to immersing Leap-Start students in the exciting work that our IT teams do every day to support essential operational and commercial functions that keep our airline running," said John Jacobi, senior vice president and chief information officer at Hawaiian Airlines. "As Hawaiʻi's hometown carrier, we are grateful to partner with the University of Hawaiʻi to give our local students valuable on-the-job training while introducing them to rewarding IT career opportunities at Hawaiian."
Hawaiʻi nonprofit ClimbHI also worked with UH to seamlessly integrate Leap-Start into its ClimbHI Bridge online portal. Launched in 2020, the Bridge is used by hundreds of businesses across the state in an unprecedented public-private partnership, linking thousands of educators, students, businesses and organizations together to provide educational and workforce development opportunities.
The portal allows students to learn about and apply for internships in the local defense, IT and engineering industries with easy-to-use, dedicated access.
"Leap-Start helps enhance the visibility of the numerous career opportunities we have right here at home and connects University of Hawaiʻi students with businesses in one automated system," said ClimbHI President Julie Morikawa.
UH IT & Intelligence Career Fair
An upcoming IT career fair will also provide opportunities for both local industry and students. UH and partners Chamber of Commerce Hawaii, Hawaii Defense Alliance, CIO Council of Hawaii and CyberHawaii are hosting a virtual IT & Intelligence Career Fair on Friday, October 14, 2022, 10 a.m.–1 p.m. using the Brazen platform.
Prospective employers will be able to chat, live stream video and video chat individually with candidates, as well as review any registered attendee's resume before, during and following the event. Students will also be able to check out employers and vendors, send them messages, and "get in line" to speak with them. Students across the 10-campus UH system may register at: go.hawaii.edu/2P6.