The University of Hawaiʻi has partnered with MITRE, a not-for-profit operator of six federally funded research and development centers, to identify opportunities for collaborative analysis, engineering and research to advance marine technology, enhance cyber defense, strengthen climate resilience, address natural resource management and test new energy technologies.
MITRE will help connect UH technologies with federal agencies to help accelerate commercialization and move impact-driven UH innovations from the lab to the market.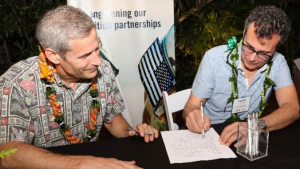 "Partnering with MITRE provides a wonderful opportunity for UH to translate our world-class research into real-world solutions for the benefit of our state and beyond," said Vassilis L. Syrmos, UH vice president for research and innovation. "We look forward to having access to MITRE's impressive expertise and reach that will strengthen the UH research enterprise and help to grow our economic and knowledge-based sectors in Hawaiʻi."
This partnership will explore the following opportunities:
identifying aligned research and development projects
sharing network connectivity and lab infrastructure
supporting or establishing mentorship and internship programs at UH based on resources, opportunities and needs
MITRE and UH will also explore potential collaborative projects related to UH health initiatives, data and health analytics, coastal engineering and coastal infrastructure resilience, data science and cybersecurity, aerospace engineering and blue tech (ocean science and engineering).
As part of its national security work, MITRE operates the Department of Defense's National Security Engineering Center. It helps military and intelligence organizations make wise investments in systems that work together, connect the innovation community to mission needs, and enable technology deployment to take military and civilian personnel out of harm's way—all while keeping an eye on the horizon for the next global challenge.
"Our collaboration will maximize the capabilities of both MITRE and University of Hawaiʻi to positively impact the Indo-Pacific region and the safety of the world," said Keoki Jackson, senior vice president, general manager, MITRE National Security. "I'm excited for what our two organizations can discover and innovate together."
The partnership will be managed by the Office of the Vice President for Research and Innovation with support from its Office of Innovation and Commercialization.