The University of Hawaiʻi is requesting proposals from qualified developers to redevelop 2.49 acres of UH-owned land next to Kapiʻolani Community College. The goal of the project is to provide students with experiential learning opportunities through the development of an alternative revenue stream for UH other than through tuition and state funding.
The proposed project objectives includes a use that partners or collaborates with one or more UH programs listed in the "Notice to Interested Parties":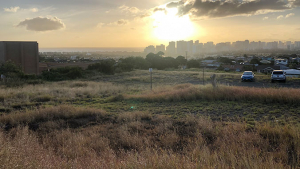 The project must also fit in the context of the surrounding community, and the developer must have an on-property physical presence and manage the project after it is built.
The deadline for submissions is December 7, 2022, and the selection is scheduled to be announced January 31, 2023. The selected developer will be required to enter into a development agreement and long-term ground lease with UH. Ownership would revert back to UH when the ground lease expires. The agreement and lease must receive final approval from the UH Board of Regents before the project can begin.
The property is located at 550 Makapuʻu Avenue across from Kapiʻolani CC and Lēʻahi Hospital, on the same block as the recently redeveloped Diamond Head Theatre. There are no structures on the property, and a portion of it is currently being used as a temporary parking lot by the hospital.