In an effort to experience historic architecture and get a glimpse into buildings constructed before the 1950s, University of Hawaiʻi at Mānoa School of Architecture faculty and students designed a walking tour for the public through historic Fort Street Mall in Honolulu.
The Fort Street Mall exhibition will be based at AIA Honolulu and have a grand opening on November 4, 6 p.m. The exhibit will run until February, Monday–Friday, 9 a.m.–5 p.m.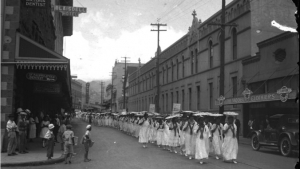 Participants can walk through Fort Street Mall with a booklet that includes a self-guided tour of 13 historical buildings and sites. Each building will have a QR code that participants can scan to display maps, photographs and written information about the buildings' history and context. The exhibit will also include a physical display of the American Factors building (formerly known as the H. Hackfeld building).
"Fort Street Mall is becoming the gallery," said Bundit Kanisthakhon, School of Architecture assistant professor. "This is a fun exhibit where the site actually becomes the gallery. It is for the community, so anyone walking up and down around the area can experience the history of Fort Street."
UH architecture students have been helping Kanisthakhon curate the exhibit for the past six months and spent time researching and gathering photos of historic buildings on Fort Street Mall.
"The Fort Street Mall exhibit was a great opportunity for me to conduct research about my local community," said Karolyn Jones, UH undergraduate architecture student. "I've always admired the older buildings on Fort Street, working on this project helped me understand the importance of Fort Street throughout the history of Honolulu."
The purpose of the exhibit is to create an awareness about the architecture located downtown and generate a discussion about what architecture was there in the past, what is here now and potentially what could be developed in the future.
"I saw many old photos of the Fort Street Mall when we were doing research and the photos speak to the lifestyle long ago," said Haixin Ruan, UH undergraduate architecture student. "This is a great opportunity for me to see how a popular shopping destination changes over time and becomes a high-rise office area. I am passionate about this exhibition because I love sharing these pictures with people."
"AIA Honolulu is thrilled to host this exhibit honoring the history of Fort Street Mall," said Julia Fink, executive director of AIA. "Architecture surrounds us and has such an impact on our day to day lives; it's fascinating to see how the infrastructure has shifted from then to now in accordance with how we live today."
Read more School of Architecture stories.