A new video from the University of Hawaiʻi at Mānoa Office of Student Life and Development (SLD) showcases UH Mānoa's Campus Center Complex and highlights its history, facilities, services and student development opportunities. The video will support student orientations, trainings, presentations and more. It debuted at the spring 2023 New Student Orientation on January 5.
"The Campus Center Complex video does a really good job at showcasing what the complex has to offer," said UH Mānoa freshman Kahana Pascal, who is a member of the Campus Center Board and an SLD programming assistant. "I think that it is really cool that it honors some historical aspects behind the complex while promoting student involvement."
The Campus Center Complex includes Campus Center, Hemenway Hall and the Warrior Recreation Center, and is UH Mānoa's student union and hub of student life on campus. The union is governed by the Campus Center Board and is managed by SLD. As highlighted in the video, students can access an array of services and opportunities through the complex.
Events and services
The complex is home to many of UH Mānoa's events. Aloha Bash, Taste of Manoa and the semesterly Cram Jam are some of the most popular events produced by the Campus Center Board Activities Council each school year.
Outside of special events, the Campus Center Complex offers a range of day-to-day services for students, such as the bookstore, Food Vault Hawaiʻi, graphics services, meeting and event services, ATMs and more.
Student involvement opportunities
Each year, hundreds of UH Mānoa students serve in leadership positions through the Campus Center Complex. Opportunities are available with UH Mānoa's five chartered student organizations and 200-plus Registered Independent Organizations. The complex offers student employment opportunities—another great way for students to engage with the campus community while building practical skills and strengthening their resume.
"There are so many opportunities that the Campus Center Complex has to offer students, so I strongly recommend taking advantage of every single thing possible to have an amazing college experience," said Pascal.
Modernized spaces
The Campus Center opened in 1973 as an extension of Hemenway Hall, which was the original student union. Since then, renovations have modernized areas within the Campus Center space.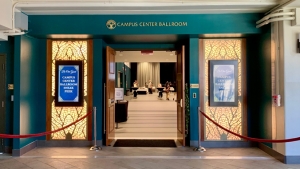 Updates to the Campus Center Ballroom were completed in 2022. The 6,240-square foot space has a brighter look and feel, along with new flooring, paint, lighting, fixtures and AV equipment.
The improvements were part of the $10.1 million phase of the Campus Center Complex Renovation and Expansion Project, which has also included repairs to the Campus Center third floor gallery, repairing and repainting the courtyard stairs, rebuilding the west stairs leading to Hemenway Hall and modernizing freight and passenger elevators. The next phase of the project will focus on revitalizing Hemenway Hall.
—By Alisha Churma