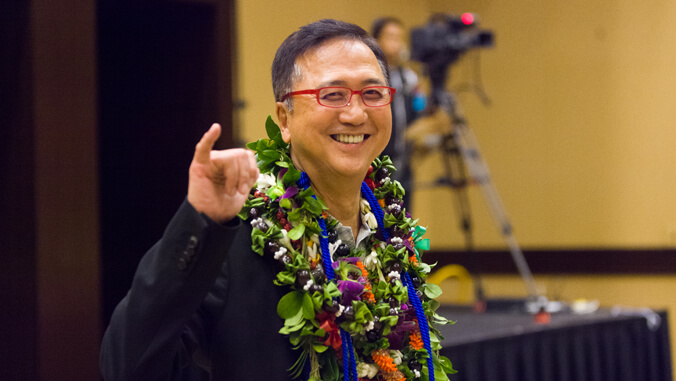 University of Hawaiʻi at Mānoa Shidler College of Business alumnus Wee Loke Tang has established the Tang Wee Loke Distinguished Professorship at the School of Travel Industry Management (TIM school) with a gift of $250,000 and matching funds from alumnus Jay H. Shidler.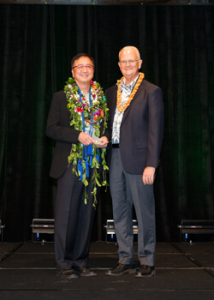 The gifts allow the college to advance research and academic activities, and increase the total number of faculty fellowships and chairs to six since the TIM school merged with Shidler college in 2019.
Tang was inducted into the Shidler College of Business Hall of Honor in 2018. He earned a bachelor's degree in business administration from the Shidler College of Business in 1973.
"As a student coming from abroad from Singapore, the University of Hawaiʻi at Mānoa TIM school was an immediate draw for me," Tang said. "My first few college jobs were working in Waikīkī, thinking I'd eventually move into hospitality management. The college holds much nostalgia and fond memories, and it's an honor and privilege to bolster the TIM school's long-standing reputation."
"Tang joins several successful alumni from Asia who have pledged their support to the TIM school," Shidler Dean Vance Roley said. "We are incredibly grateful for his decision to support the college. This gift will help us attract world-class faculty. Investment in faculty resources is instrumental in raising the profile of the school and contributes to the success of our state's leading economic driver, tourism and hospitality, by providing a pipeline of management talent and valuable industry research."
About Wee Loke Tang
After graduating, Tang began his career as an investment analyst at the Kay Hian company, a small family-owned firm in Singapore. He was promoted to director within four years and became deputy managing director of Kay Hian in 1981. Following the merger with United Overseas Bank (UOB) Securities in 2001, he served as deputy managing director of UOB Kay Hian. He helped engineer a series of acquisitions that turned UOB Kay Hian into Singapore's largest brokerage with capabilities in securities broking, margin financing, underwriting and corporate finance.
He retired from active management in 2007, while remaining on the board of UOB Kay Hian as an executive director. By the time of his retirement, the company had grown from a 20-member sales staff to a sales team of 1,100 across regional markets, as well as in New York and London.
Tang also served as independent director of the Singapore Stock Exchange (SGX) from 2002 to 2007. He led the formation of the Securities Association of Singapore, which represents the interests of SGX securities trading members in Singapore, and also served as its founding chairman. In a personal capacity, he funds bursaries and scholarships for students of his high school alma mater, as well as the National University of Singapore.