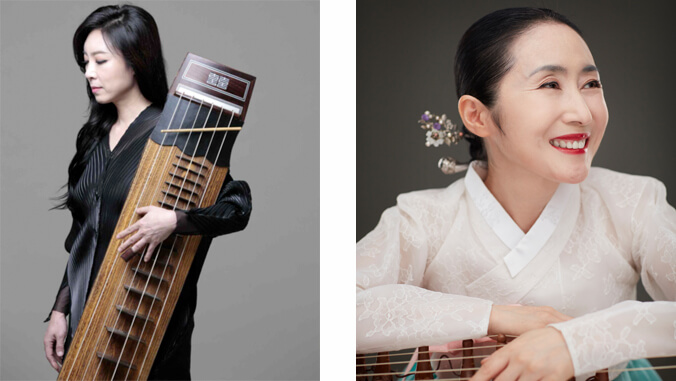 The University of Hawaiʻi at Mānoa Department of Music is hosting top traditional Korean musicians from Seoul National University (SNU) as they prepare to perform in two free concerts in February at Orvis Auditorium. The performances will feature leading gayageum, geomungo, haegeum, daegeum and janggu (traditional Korean instruments) artists playing newly composed works written by 11 UH Mānoa composition students and three faculty composers.
"What we want audiences to take away from these concerts is that new music is indeed, a living breathing thing and that traditions are constantly evolving," said Donald Reid Womack, professor of composition and theory and associate chair of music at UH Mānoa. "Every tradition was, at one time, new. Perhaps audiences will hear the beginning of a new tradition at these concerts."
In fall 2022, Womack, along with colleagues Thomas Osborne and Takuma Itoh, launched a six-month collaborative project with SNU to team up performers from the Korea-based university with UH Mānoa student composers to create new pieces for the Korean artists to play. Students in Hawaiʻi met with SNU performers through Zoom and emailed drafts of their work for feedback and advice. For some composers at UH Mānoa, it marked the very first time they penned works for Korean instruments.
"The real hope is that many of these students will form working relationships that can continue for years to come as they emerge as professionals," Womack added. "We're very happy to provide this opportunity for students from both schools to have this intercultural experience, and hope that it will lead to further opportunities for them internationally in the future."
Free performances
Both concerts will be presented at 7:30 p.m. on Wednesday, February 8 and Friday, February 10 at Orvis Auditorium. Admission is free.
February 8
Gayageum sanjo and geomungo sanjo performances by leading musician Jiyoung Yi and international superstar Yoon Jeong Heo. The group will also present a performance of sinawi, a genre sometimes likened to a Korean version of jazz because of its group improvisational structure. Yi and Heo will be featured in performances of new works by UH Mānoa composition faculty Osborne, Itoh and Womack.
February 10
SNU musicians to perform world premieres of new works by UH Mānoa student composers.
Multi-cultural roots
The music composition program at UH Mānoa is rooted upon a strong intercultural focus, particularly in relation to a wide range of music from Asia and the Pacific. According to Womack, this foundation is appropriate not only for the university's location, and its multi-cultural roots and deeply ingrained influences of Asian cultures, but also for this particular time in history.
"As people in the distant future look back on this time, it will be clear that the integration and synthesis of disparate cultural influences will be one of the most important features of music in the 21st century. Our composition faculty are leaders in working with East Asian instruments in particular, and our works are performed frequently around the globe. As a result, we attract students from around the world who want to experience this kind of forward thinking educational and artistic environment," Womack added.
The UH Mānoa Department of Music is housed within the College of Arts, Languages & Letters.