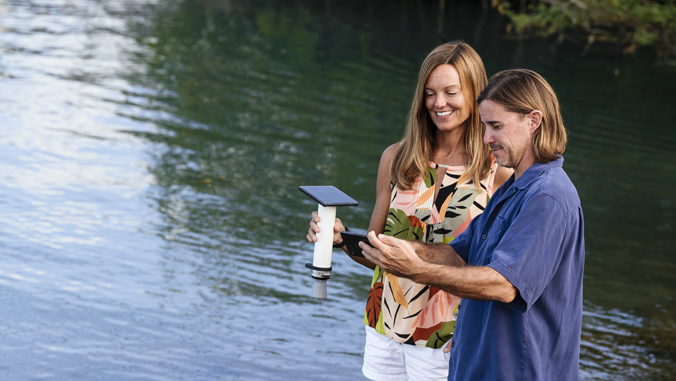 Frontline communities nationwide facing increasing threats from climate change such as flooding are getting water sensor technology and real-time data thanks to Hohonu, Inc., a University of Hawaiʻi technology startup that provides environmental water level monitoring.
Hohonu is teaming up with Purple Maiʻa Foundation and Kuaʻaina Ulu ʻAuamo for a $400,000 congressionally funded project.
The Loko Iʻa and Coastal Monitoring Project will integrate emerging sensor and data science technologies into approximately 30 fishpond restoration projects across Oʻahu and Maui Counties. The team will deploy additional water quality sensors to measure dissolved oxygen, temperature, meteorological data, chlorophyll and turbidity.
"We're seeing accelerated threats and changes today that didn't exist when the ponds were healthy and productive hundreds of years ago, which means that we need to be able to use contemporary tools to help identify how to restore places in the face of accelerating climate change," said Brian Glazer, Hohonu CEO and co-founder and oceanography associate professor at the UH Mānoa School of Ocean and Earth Science and Technology.
The sensors send data measurements wirelessly every six minutes. Hohonu has made the data available in real time to the public through an online dashboard.
UH, a partial equity owner in the company, along with some local nonprofits, is a part of Hohonu's mission to democratize access to ocean observing technologies.
"UH invested in Hohonu because we believe in the researcher, and we believe it is impacting the economy," said Steve Auerbach, interim director of UH's Office of Innovation and Commercialization. "Our ultimate goal is trying to diversify Hawaiʻi's economy through our innovation and research. Brian's technology and company are aligned with UH's strategic plan, and we want to encourage more of those companies to come out of the world-class research we have here at UH."
Addressing a global issue
On the continental U.S., Hohonu has deployed 60 sensors from Florida to Maine, in California and Alaska, and throughout Hawaiʻi, working closely with local communities that are seeing effects from accelerating climate change with hyperlocal episodic flooding.
"Communities in North and South Carolina were particularly proactive. In some areas there were parents who were unable to pick up their kids from preschool during high tide and during king tide events," said Glazer. "The nearest tide gauges were simply too far away to accurately measure and predict the local anomalies."
"Accelerating threats from climate change is not just a local problem, it's a global problem," said Glazer. "And it's not only a coastal ocean problem, either. It's inland, it's rivers, lakes, streams and reservoirs. So we're hoping Hohonu can help to create solutions with reliable rigorous monitoring that is scalable and cost-effective to help communities build resilience in the face of climate change."
Building an informed future
Hohonu was incorporated in 2019, but its origin dates back to 2014 when Glazer became frustrated with the lack of environmental monitoring tools that were available to him while helping Hawaiian fishpond restoration community groups with environmental monitoring solutions. Those efforts gained traction, and soon demand for observing tools exceeded capacity in the lab, and with support and guidance from UH, Hohonu was launched.
"It's really about building an informed future," said Glazer. "By creating access to quantifiable ocean, coastal and environmental data, and blending new techniques with traditional Indigenous knowledge, we're in much better positions to think about how rapidly our environments are changing today."