The University of Hawaiʻi at Mānoa Student Housing Services is in the beginning stages of implementing a comprehensive plan to upgrade facilities, streamline operations, provide additional resources for current and prospective student residents, and improve the overall student resident experience. The plan identifies near-, mid- and long-term objectives with work already underway on many initiatives, according to Student Housing Director Dean Shimomura.
"It will take many years to get our on-campus facilities to where we would like them to be, but I believe we've identified a thoughtful and cost-effective approach that will have an immediate and positive impact on both current and future residents," said Shimomura, who started in January 2022 and brings almost two decades of facilities management experience after overseeing facilities for Hawaiʻi's Department of Accounting and General Services. "Great challenges create great opportunities and I'm excited to lead a team that's committed to improving the resident experience and the condition of our facilities."
A full assessment of UH Mānoa's 15 buildings that currently house about 3,100 student residents each semester is in progress and will be used to establish a comprehensive, long-term improvement plan. The assessment is taking a detailed look at existing facility conditions, the student resident experience, and student housing operations.
Immediate impacts, upgrades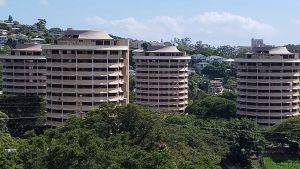 Student residents will begin to see upgrades in the spring 2023 semester as Student Housing Services works to meet short-term objectives. These include improvements to janitorial services and response times for repairs, window and building exterior cleaning, replacement of old and deteriorated flooring, cosmetic improvements such as fresh paint and minor repairs.
Janitorial services will also be expanding to enhance the condition of shared-use areas. Ten new janitorial positions have been added and are now being filled to bring the full staff to 28 positions. Janitorial services will be better staffed on the weekends and holidays to better maintain facilities after an agreement was reached with the union, United Public Workers. Currently, the janitorial staff are only scheduled for weekdays and work overtime on weekends and holidays on a voluntary basis.
The work order system for students to request repairs was revamped in 2022, and now 100% of all work orders are assigned, and students are notified within 24 hours of receipt of their submission. A large backlog was addressed when outstanding work orders were completed in 2022—staff completed 3,618 work orders between March 2022 and November 2022.
In fall 2023, Student Housing Services will implement a data-driven, student resident feedback process to regularly measure student resident satisfaction and identify and address issues promptly.
Improving student experience
An internal assessment was conducted during the fall 2022 semester to map out the resident experience and highlight the most significant touch points in the student housing journey. The assessment found a single negative experience can have a prolonged impact on the perceived quality and value of student housing, starting with the application process, which can be overwhelming for first-generation college students and individuals not familiar with local housing conditions among others. To assist students and their families in their housing search, additional information and resources are being developed for prospective student residents and their families ahead of the fall 2023 semester. These include but are not limited to:
A "Housing Resources and Support" fact sheet will be incorporated into the admissions communication package.
Virtual information sessions for prospective students and their families.
Informational videos posted online and shown during virtual sessions that provide a general overview of on-campus housing, what to expect on Move-In Day, etc…
A Revamped Student Housing Services website to improve access to information and resources for both existing and prospective students.
A new online resource dedicated to off-campus housing options.
Staff are also exploring ways to harness the excitement that residents have when they arrive on Move-In Day as it is the first in-person interaction that many students have with the organization. "Students are excited when they arrive on-campus and we want the move-in to go as smoothly as possible so that energy can be sustained and carried into their studies each semester," said Norman "Keola" Jimeno, assistant director of Student Housing Operations. When asked about how progress will be measured, Keola responded, "We will be monitoring move-in condition checklists and work orders that are submitted during the first two weeks of the semester. We anticipate a reduction this year as we are increasing our staffing levels and also have plans to conduct infrastructure and cosmetic upgrades over the summer."
Staff also noted that reducing traffic congestion on move-in days is a priority and various strategies are being considered to mitigate the impact on local residents.
Renovating critical infrastructure, increasing on-campus beds
The mid- and long-term objectives plan calls for complete renovations and repairs of critical infrastructure to keep existing facilities safe and operational, including plumbing, elevators, electrical and HVAC systems. Another objective is to increase on-campus beds by 30% compared to fall 2022 levels as the university is continuously exploring ways to increase inventory.
The $70 million live-learn-work Residences for Innovative Student Entrepreneurs (RISE) facility project will add 374 more beds for student residents on campus. RISE is on the site of the former Atherton YMCA at the corner of University Avenue and Metcalf Street and is scheduled to be opened in fall 2023.
RISE is UH's first public-private partnership (P3) and is fully funded with private, non-taxpayer money. A second P3 student housing project is in the planning stages and will be located at the former NOAA facility on Dole Street across from Frear Hall. It will provide 300-plus housing units for graduate students and students with families and will include a childcare facility.
The renovation of Hale Noelani, which has been offline since the Summer of 2018, is also a top priority as the apartment-style accommodations contain approximately 530 beds.
Operational Improvements
A number of initiatives are underway to improve internal coordination efforts including the implementation of a daily management system (DMS). The DMS establishes the structure by which Student Housing Operations will manage day-to-day operations and ensure activities go as planned.
The DMS is rooted in continuous improvement, establishes clear lines of communications between front-line employees, managers and directors and provides a structured approach for the escalation of issues that require timely resolution. The goal is to reduce the amount of time it takes to fulfill work orders and provide valuable services to on-campus residents.
Administratively, Student Housing is gathering requirements for a software platform that is capable of centralizing the various facets of managing on-campus accommodations—from applications, to roommate matching, room assignments, billing, package delivery, feedback loops, front desk operations, maintenance requests and everything in between.
The goal is to streamline the administrative processes, centralize information for reporting purposes, and consistently engage with students across sub-units within student housing. The adoption and implementation of a new system has been identified as a near-term objective to be completed by 2025.