From the January 6, 2021 mob storming the U.S. Capitol to U.S. Supreme Court Associate Justice Ketanji Brown Jackson's confirmation hearing, Los Angeles Times staff photographer Kent Nishimura—a Kapiʻolani Community College alumnus and University of Hawaiʻi Mānoa graduate—has had a front-row seat to history.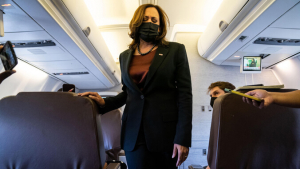 Nishimura has also flown multiple times on Air Force 2 with Vice President Kamala Harris, and, armed with his camera and scant protective gear, dived into the heart of California wildfires, and protests in Minnesota over the killing of George Floyd.
It has been a remarkable journey, fluctuating from the "really cool" (Jackson's confirmation) to the "weird and surreal" (January 6), that showcases the 37-year-old Nishimura's talent and tenacity.
Great place to learn and grow
Nishimura, a 2003 graduate of Roosevelt High School in Honolulu, jump started his career by photographing President Barack Obama on his Christmas holidays on Oʻahu for various news organizations. He interned at the now-defunct Honolulu Advertiser newspaper and was hired as a photographer, however the paper's 2010 merger with the Honolulu Star-Bulletin left him without a job.
Related story: UH Mānoa alum covers January 6 siege of Capitol Building, January 26, 2021

While working as a freelance photographer, Nishimura enrolled at Kapiʻolani CC and over the course of four semesters graduated with an associate of arts degree in liberal arts. The academic landscape of Kapiʻolani CC gave him the flexibility to continue to pursue his career while furthering his education.
"[Kapiʻolani CC] was a great place to learn and to grow, especially for someone who needed time and space to find themself, to try new things, to explore new fields, to find oneself," Nishimura said. "…It was truly an experience where I was not just allowed to, but encouraged to grow and explore and learn at a pace that was comfortable for me."
Becoming a better communicator
Though the college had no photography courses, Nishimura enjoyed courses such as COM 201 Intro to Communication, which helped create a strong foundation for the visual journalism he does daily now.
"Keith Kashiwada's COM 201 class was an inflection point of sorts," he said. "In his class I learned a lot about communication, and about myself—in terms of how I communicate and starting to understand how to communicate more effectively with others. Which, if you didn't know, is crazy important as a journalist. [Kashiwada] was engaging and took the time to help me understand, truly understand, what he was trying to teach in the course, as well as how I could become a better communicator."
He also credited the guidance he received from Sheldon Tawata, a Kuilei Outreach Program coordinator, as a key part of his journey at Kapiʻolani CC.
"Kent is a true definition of a returning adult student, where he found his formula to balance two priorities: pursuing his career while earning his baccalaureate," Tawata said. "He represents what it means to persevere in the face of adversity as a working adult completing their college degree. When speaking with him, I would hear all his amazing stories about being a photographer."
'Trust your instincts'
Nishimura got his big break at The Colorado Springs Gazette with a highly sought after internship due to the paper's emphasis on visual storytelling. He was rejected twice but chose to ignore those setbacks and succeeded in August 2013. That led to internships with Tampa Bay Times, Denver Post and Los Angeles Times, which he eventually joined in 2017.
"Trust your instincts," Nishimura said. "That's something that even I struggle with. I always second guess myself, and I don't necessarily think that whatever choice I'm making is the right one. But I've been learning to trust my instincts on things, and it's put me in good positions for photos and to be able to capture great moments. …One of the things that I always tell people is, 'You have to be tenacious. You can't give up.'"
Nishimura has received national attention for his photography of the wildfires that have plagued California, but he pushed his editors into creating a position in the paper's Washington, D.C. bureau to not only follow Harris, who is from California, but to also visually represent the policies and politics that were impacting the state and the paper's readers.
His bosses relented, and Nishimura ventured to the nation's capital. His second day working there was January 6, 2021. Nishimura had an inkling, through the online chatter among supporters of President Donald Trump, that January 6 had the potential to be a wild day, but he soon found himself in the heart of the riot, between the enraged crowd and the capitol police.
"It was so weird and surreal," said Nishimura, whose helmet-mounted GoPro recorded nearly 30 minutes of the day's chaos from within. "I couldn't believe what I was seeing. …Being in the middle of that, seeing all of that and then wading into the middle of all of that was really jarring."
Since that watershed event, Nishimura has taken celebrity portraits at the Toronto International Film Festival (from Taylor Swift to Sir Ben Kingsley) and has collected nearly a dozen napkins, emblazoned with the vice presidential seal, from his trips on Air Force 2. He has twice turned down requests to take his skills to Ukraine, but he's open to just about any other assignment.
"It's kind of neat that I've been able to actually do everything at the paper…to do a wide array of stuff," Nishimura said. "My speciality is that I do everything and I do everything well."
—by Kim Baxter