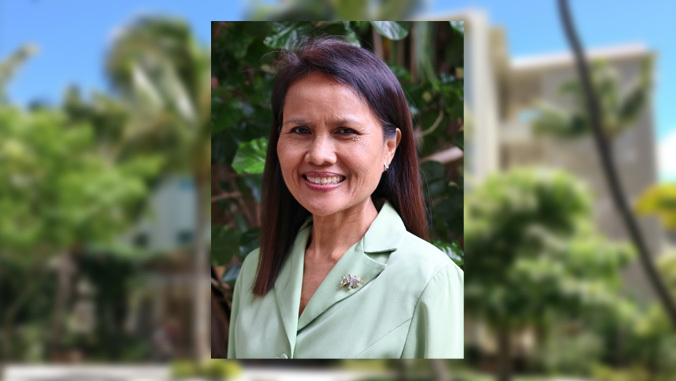 Clementina D. Ceria-Ulep has been appointed permanent dean of the University of Hawaiʻi at Mānoa Nancy Atmospera-Walch School of Nursing (NAWSON), effective April 1, 2023. Notification of her appointment will be included in a personnel attachment to the March 23 Board of Regents meeting agenda. Ceria-Ulep has served as acting dean from August 1 to October 31, 2021, and as interim dean since November 1, 2021.
Ceria-Ulep joined the School of Nursing and Dental Hygiene faculty at UH Mānoa in 1993. She has taught in both undergraduate and graduate programs, and served in various leadership positions.
"We are very pleased that Dr. Ceria-Ulep has accepted the permanent dean position to continue to lead the Nancy Atmospera-Walch School of Nursing in providing quality education, research and service for our students, faculty, alumni and community partners," said UH Manoa Provost Michael Bruno. "Her long career in healthcare coupled with her dedication and passion for the profession, make her an asset to the school and the university."
As acting and interim dean, Ceria-Ulep provided academic and administrative leadership for the school, and led and coordinated the school's academic, curricular, research and service programs to ensure the advancement of the strategic plans of UH Mānoa and UH System. She was previously associate dean for academic affairs where she oversaw the programmatic development and quality assurance of the department of nursing and department of dental hygiene.
Her clinical practice areas are in adult health and administration, and research focusing on healthy aging, physical activity and physical function.
She was instrumental in the implementation of the Hawaiʻi Statewide Nursing Consortium in 2010, the development of new undergraduate pathways to the bachelor's degree, and the launch of the Doctor of Nursing Practice program in 2013. She has participated in three department of nursing accreditations.
She was co-principal investigator of a National Institutes of Health grant to increase physical activity and decrease sedentary time in Filipino older adults who are lay leaders from Filipino Catholic Clubs in Hawaiʻi. As chair of the Long-Term Care taskforce of the Faith Action for Community Equity (FACE), an interfaith community organization, Ceria-Ulep worked with key local and national organizations to pass Act 102, which provides working families a daily allowance to fund caregiving services for elderly family members. The achievement highlighted Hawaiʻi as a leader in the nation by being the first to pass such a law.
As the first president of FACE, she was also instrumental in the renovation of Kalihi Valley Homes. She worked with FACE members and the state government to install traffic amenities in the once dangerous Waiau interchange, Honolulu City Council to install bus shelters in Kalihi Valley and Waipahu, and priority seating for the elderly on Honolulu city buses.
"I welcome this opportunity with gratitude and joy! I am honored and privileged, and at the same time humbled to be selected as the permanent dean of the UH Mānoa Nancy Atmospera-Walch School of Nursing," said Ceria-Ulep. "I appreciate the confidence and trust placed in me by faculty, staff, students, colleagues and administration. From teaching at all levels and serving as department chair, associate dean, acting and interim dean, I have grown so much personally and professionally at NAWSON. I will use lessons learned and experiences gained to take NAWSON to greater heights with everyone's support and collaboration to benefit the school, university, state and beyond!
Ceria-Ulep's success as a leader has led to numerous honors and awards, including Outstanding Alumni of the UH Mānoa School of Nursing and Dental Hygiene, Excellence in Nursing Research Award from the Filipino Nurses of Hawaii, the Fr. Ernest Claes outstanding leadership award from the Oʻahu Council of Filipino Catholic Club, PRIDE Award from the Philippine Nurses Association of Hawaiʻi and fellow from the Pacific Century Fellows Program.
Ceria-Ulep is a proud UH alumna having earned her bachelor's of science and master's of science in nursing administration from UH Mānoa. She received her PhD in nursing administration from the Medical College of Virginia, Virginia Commonwealth University in Richmond, Virginia.