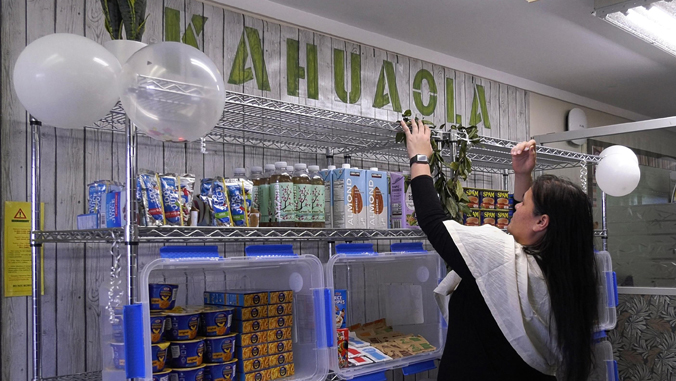 Hawaiʻi Community College has announced the opening of the Kahuaola Basic Needs Center at the Manono campus in Hilo. Kahuaola, as its name references, is a student resource center that aims to build a foundation to support the basic needs of Hawaiʻi CC students. Kahua is the foundation upon which ola—life, health and well-being—blossoms.
"Hawaiʻi Community College and other higher education institutions are seeing more students struggling to meet basic needs like food and housing, which makes it difficult for them to succeed in college," said Craig Mitchell, the coordinator of the Kahuaola Basic Needs Center. "If we can connect students with our on-campus food and resource pantry, as well as to other support programs available in the community, we can increase the chances students will persist and graduate."
Hawaiʻi CC Chancellor Rachel Solemsaas said the establishment of Kahuaola is a recognition of how important it is for the college to work in partnership with community organizations.
"In addition to offering services like a food pantry, Kahuaola is also a resource center and a connection to the community," Solemsaas said. "Because at the end of the day, as an educational institution, we know we can't do it alone. Hawaiʻi Community College is proud to be part of the larger opportunity network that supports students so they can succeed in college, thrive in the workforce, and support themselves and their families."
Related story: $1.8M to support low-income, first-generation students' basic needs
The launch of Kahuaola has been supported by a five-year Stupski Foundation grant.
"We mahalo the Stupski Foundation for investing in our students and community," said Solemsaas.
In a recent study, 50% of Hawaiʻi CC students surveyed experienced some type of basic needs insecurity. Basic needs include, but are not limited to, food and housing, clothing, childcare, mental health and transportation. Of the Hawaiʻi CC students who were surveyed:
37% experienced housing insecurity in the previous year
31% experienced food insecurity in the prior 30 days
10% experienced homelessness in the previous year
In addition, 50% of students experiencing basic needs insecurity did not apply for campus support because they were unaware of support services or did not know how.
Important resources
Kahuaola offers a food pantry for students; application support for the Supplemental Nutrition Assistance Program; access to the Hawaii Nutrition, Employment and Training (HINET) program for eligible students; and connection to other essential resources to help students meet their basic needs while pursuing a college education.
The center will also focus on increasing scholarship and Free Application for Federal Student Aid completion as well as linking students to financial literacy opportunities.
Amanda Santiago, who is studying culinary arts at Hawaiʻi CC, said she receives transportation reimbursement through the HINET program to help defray the costs of driving to campus.
"I'm really thankful for this program, because it's helping me a lot," said Santiago. "Since I'm from Pāhoa, I drive every day, and gas is really expensive."
The opening of Kahuaola is part of a broader effort across the UH System to address gaps in students' ability to meet basic needs. UH has adopted a Basic Needs Master Plan and has launched a basic needs website.
It's also an expansion of Hawaiʻi CC's efforts to address students' struggles with basic needs. Students, faculty and staff have for years offered monthly on-campus food distributions in partnership with the Food Basket.
Kanoe Lake, who is taking human services courses with the goal of becoming a licensed family therapist, said she has benefited from Kahuaola's food pantry and reimbursement for books and supplies through the HINET program.
"HINET and this center here have been instrumental in my success in college," said Lake. "I am thriving here because of them."