The 2023 Native Hawaiian Health and Well Being Summit, AHA HOOLOKAHI, attracted more than 600 attendees from across the nation to the University of Hawaiʻi–West Oʻahu in June.
The goal of the summit was to shine the light on ola (health), life and its many elements. Healers and cultural practitioners discussed issues of preservation, protection and perpetuation of traditional Hawaiian healing practices.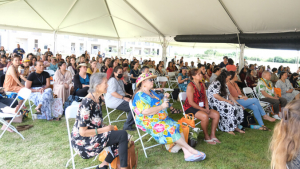 Papa Ola Lōkahi, an organization working to improve the health and well being of Native Hawaiians, and UH West Oʻahu co-hosted the summit, which included presentations from faculty and researchers from UH Mānoa, UH West Oʻahu, UH Maui College and Hawaiʻi Pacific University.
"This is a true partnership with university and community to offer teachings that are requested by the community," said Sheri-Ann Daniels, CEO of Papa Ola Lōkahi, in a statement. "We appreciate our hosts at UH West Oʻahu and their deep relationships with Kapolei, the community and the wahi pana, or storied place."
Former UH West Oʻahu kumu (teacher) "Aunty" Lynette Paglinawan, a nationally recognized retired social worker and practitioner of hoʻoponopono, served as the keynote speaker.
The event also featured a job fair for new public health professionals and allied health workers.