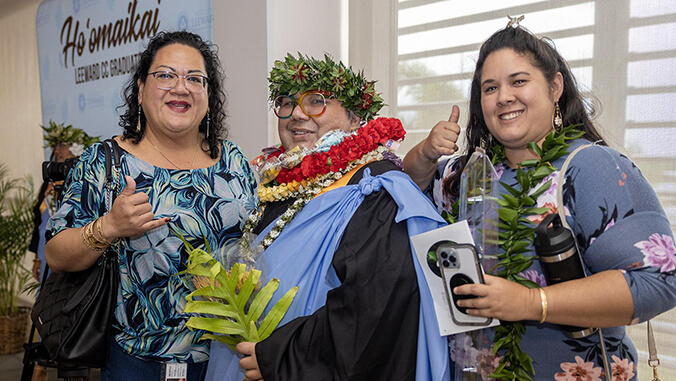 Recent Leeward Community College graduate Kawena Lorenzo was one of 23 recipients chosen from among thousands of applicants for the Flagship Scholarship from Point Foundation, the largest LGBTQ scholarship-granting nonprofit in the nation. Coming from a low-income family, being a first-generation college student, and identifying as Māhū (those who embody both male and female spirit), she is the third recipient from Hawaiʻi since the scholarship's inception in 2002.
Determined to pursue her goal of using education as a tool for social change, Lorenzo earned her liberal arts degree and certificate of Hawaiian Studies and graduated as a Phi Theta Kappa (honors) member and Ke Ala ʻIke Scholar as she maintained a 4.0 GPA while actively participating in various academic clubs and organizations.
"My experiences have cultivated a resilience and perseverance in me that fuels my academic and personal growth," said Lorenzo.
Lorenzo applied for the Flagship Scholarship after being encouraged by her Leeward CC Academic Advisor Leilani Puchalski. Awardees of the Flagship Scholarship must be "out" as a person who identifies as a member of the LGBTQ community, and must demonstrate outstanding academic achievement, leadership potential and a strong commitment to making a positive impact in their community.
"Through the diversity and inclusivity that [Leeward CC] fosters, I have gained unique perspectives, enriching my educational experience," Lorenzo said. "Leeward [CC] has allowed me to engage in constructive dialogues, work on impactful projects, and build a community that celebrates diversity."
Lorenzo is a peer mentor for the Lauhoe (first-year) Program at Leeward CC, has contributed as a communications manager for the Hauʻula Homestead Project (helping to secure housing for underserved Native Hawaiian communities on Oʻahu), and is a volunteer online crisis counselor for the Trevor Project, working on suicide prevention among LGBTQ youth.
She plans to complete her bachelor's degree in Hawaiian Pacific studies at the University of Hawaiʻi West Oʻahu, then transfer to UH Mānoa to pursue a PhD in sociology. Upon completion, Lorenzo wants to come full circle and return as an academic advisor at Leeward CC. By combining her passion for sociology and her desire to support and guide students, she hopes to make a meaningful impact on the educational journey of future generations.