Martin Pepper sits in an unassuming office in the University of Hawaiʻi at Mānoa College of Engineering's machine shop, where he has worked as a scientific instrument technician since 2022. It wasn't until later that fall, however, that the engineering students and faculty discovered one of the amazing tales behind the tech during the college's talent show.
"As I told my near death story of hypothermia in a blizzard in southern Argentina the crowd became silent and as a performer I couldn't tell if the silence was in awe or disgust and then students came up to me later asking to hear more stories and wanting to know how they can too build their own personal grit," Pepper said.
The 49-year-old's life has been filled with experiences that many only dream of…or see in their nightmares.
National champion
As a student at the University of Arizona, Pepper won an NCAA swimming title in the 100-yard butterfly in 1996, four years after his brother won it.
"I almost won it as a sophomore [in 1994] and missed it. I think I got second or third," Pepper said. "But then, by my senior year, I kind of just let everything go, no expectations. In fact, building a boat was my cross training on the side. This helped me finally take the break I needed for competing at nationals, and with some coaching from my brother and letting it all go, I accidentally won. I touched the wall, forgot what lane I was in, didn't see anybody else celebrating and after counting the lanes I realized I won it!"
It was the grueling physical preparation for competitions swimming up to 100 kilometers a week, and the mental preparations that helped Pepper survive his most challenging situations.
"When I swam, I actually made friends with my pain. I had these conversations when I was working out with these painful parts of my body, and there's been some times where I get back there, even lately doing big projects that require major exertion. It's like talking to old friends," Pepper said. "And it's that where I learned how deep I can dig. Most people don't push themselves to that physical or mental edge. For me, life is all about experiencing anything and everything I can and seeing how far I can push my boundaries in all these different realms of life."
After graduating with a major in psychology and minor in ecology in 1996, Pepper built up a machine shop while competing in the '96 and 2000 Olympic trials. Several years later, he returned for a master's in applied ecology working on large mammal wildlife management jumping out of helicopters tackling deer, bighorn sheep and coyotes to install tracking collars. After taking jobs on islands like the Turks and Caicos Islands and Papua New Guinea, and spending time traveling the world with a camera and a backpack while selling stories to magazines, he received a phone call that would change his life.
Journey of 30,000 miles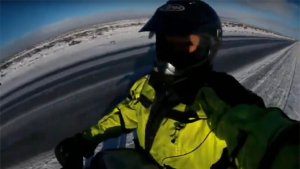 His former professor needed "someone as dumb and as crazy as me" to try and get a sand sample from every river in the world by swimming, hiking, biking, motorcycling and sailing.
Pepper replied, "Are you kidding? That's a dream!"
That's when the pair mapped out a project and a 15 year plan, and chose to start in South America. He modified an old motorcycle in his shop for transportation for the seven months-long, 30,000-mile journey. Most of the trip played out like a season of the TV series Survivor. Things almost never went as planned, living through near-death experiences multiple times.
"There were five times that I should've died. But there were a lot of other times, like in central Argentina during the wet season where I was soaked for two months straight and I just got comfortable with shivering and freezing," Pepper said.
He said that he should have frozen to death during that blizzard story he told the engineering students. He was almost taken hostage, had guns or machetes held to his throat and was run off the road daily, and almost collided with two semi trucks coming head on. Pepper called his parents occasionally using a satellite phone to update them—well, mostly to say that he was still alive and tell his dad about the latest harrowing tale.
After seven months collecting samples, Pepper had tons of data. He decided to forgo visiting the other six continents, and instead, hit the books again to complete a PhD.
TV personality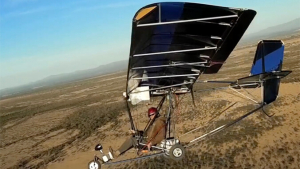 After graduating with a PhD in geochemistry, Pepper taught some college courses while also trying to make it big as a TV personality. In total, Pepper said he has done about 30 shows on about eight series, everything from blowing things up on Mythbusters to geology shows. Earlier this year, he was featured in a History Channel show called History's Greatest Mysteries with Lawrence Fishburne.
Journey to Mānoa
Pepper came to UH Mānoa from the University of Arizona, where he worked as geochemistry lab manager for Arizona LaserChron, an instructor for geosciences and a videographer for UA Communications and Marketing. He and his family made the journey to the islands because his wife, who is from Tokyo, wanted to be closer to her family and have their kids experience the aloha ʻāina spirit.
"It's been awesome. The engineering college has been great with how everybody chips in to do what is needed," Pepper said. "I've been really fortunate to not only have this job, but have the engineering ʻohana to support me."
Kimberly Perez Hults, the college's director of marketing and outreach relations said, "I was intrigued to learn about Dr. Pepper's diverse and exciting background and knew he'd fit right in with our eclectic team at the College of Engineering. It's been such a pleasure working with Marty and I know we've only just scratched the surface of utilizing his talents as a scientist, researcher, educator, motivational speaker and resident daredevil!"
—By Marc Arakaki